Rube Goldberg was a cartoonist in the early half of the last century.  He was made famous by his illustrations of fanciful machines ridiculously over engineered to perform common, simple tasks utilizing random, yet familiar materials with as much complexity as possible.
Growing up I understood that anything cobbled together with whatever might be lying around; using products in a ways they had never been designed for in hopes of finding a functional purpose could often be referred to as a "Rube Goldberg" solution.
Last Saturday was our towns big summertime celebration.  Community days fills our courthouse lawn with countless booths encouraging local interests of great variety.  Live music from a decorated goose-neck trailer used as a stage kept full with a rotation of artists that usually sound pretty good, despite the over amplified speakers struggling as best they can to carry the volume.  Main street gets blocked off for the show and shine, and after all these years I still find myself amazed at not only the number of entries, but the variety.
Two long blocks plugged on both sides of the street with anything, and near everything a true motor-head with a heart pumping engine oil might desire.  Folks show up from all over the county and beyond to celebrate.
As for the parade, it must surely be half a mile long, and anyone representing anything local can join, even if it winds up being some redneck kid and his buddies in a diesel pickup obnoxiously puking black, sooty exhaust smoke every time the throttle is mashed…  Those with a single chrome stack sticking up through the bed just behind the cab seem to be crowd pleasers.  Often times when I witness a spectacle like this I find myself rifling through old memories from my youth in hopes to judge weather or not the display is really cool,… or just plain stupid.  In this case, I still haven't decided.
Collectively it's a pretty big deal hereabouts', and my wife, both daughters, and Jo's small dog Rebel were in the parade.  My only responsibility for the day was to take pictures of the girls and Rebel as they passed with the church float,… and I was about to be late.
I had just a bit to do that morning, so Dusty and I set off first thing towards some minor maintenance on our machine.  Then we were off to meet with prospective customers needing sub-grade for a new home.  Some while later I knew I was in trouble when Grace called in the middle of the meeting to ask, "Where are you?"  By then the couple seemed happy to have met us, so after a very brief explanation of my current circumstances, I apologetically dismissed myself from involvement in the grand, hopeful dreams these people were sharing.  Understanding the encroaching predicament I might soon be in, the wife rather excitedly said, "Goodness sakes man!  Get off to your family!"  And so Dusty and I hurried off back to town as fast as we could.
I found parking behind the parts house, which of course happened to be at the wrong end of the long line of show cars and trucks from what I was trying not to be late for.  Determined to ignore all the rolling eye candy we passed as we moved along, I stretched my legs to a hurried pace down the middle of main street.  I did take note of interests on either side along the way in hopes to revisit them later in the day, however.  Some were shiny new, some intimately restored with immaculate detail, and others still were so terribly galled with rust their place in the event could only represent hopeful possibilities.  Everyone that comes to appreciate the turnout understands that the owners of these fine vehicles are proud to own them, or they wouldn't be there.  Even the unassuming little ford ranger apparently there only to sport the latest fashion in plastic, neon green bull testicles mounted in such a way as to leave many asking, "Why didn't I think of that?"
Dusty and I were sincere in our attempt to hurry through these two blocks of wonderfulness in time to take the pictures requested of me, but there were distractions.  "Wait!  Is that a pinto?!  Really?"  I cradled Graces' new camera as we moved along knowing that if she did have precious "things," it would certainly be one of them.  Although I wasn't overly comfortable about being charged with this delicate tool that so delights my wife at the time, when she asked where her camera was at the church a couple hours later I simply shrugged with a hooked thumb over my shoulder and said, "It's in the truck."  A small shadow of concern passed over her face when she asked, "Is your truck locked?"  I explained how that would be silly.  It was a hot day so I'd left the windows down.  Very, VERY shortly after this conversation I handed the camera back to her,… once I'd hurriedly retrieved it from my truck.
Passing through the show and shine I'd asked Dusty if he wanted to take the pictures of Mary, Jo and Rebel.  "Uh, no…"  He said while his eyes darted from car to car as we walked along.  "I don't want that kind of responsibility."
Shortly his stride wavered, falling out of cadence with my own.  An excited, "No way!" escaped him about the same time my eyes had followed his, only to rather lamely repeat his exclamation.  "No way!"  It was Rube!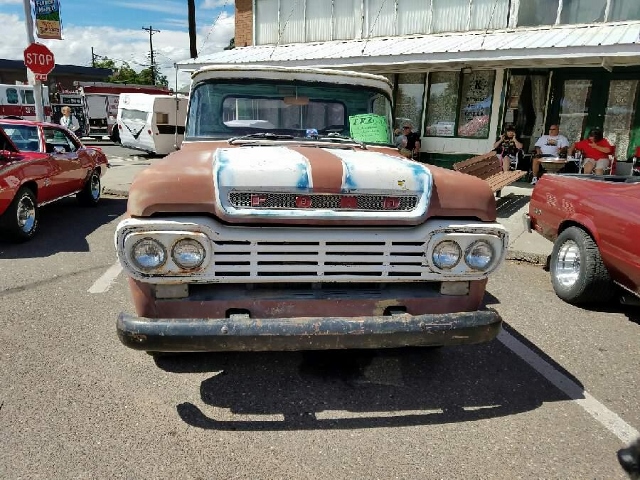 She was sittin' right there big as you please, properly backed up to the curb between a highly polished late sixties Camaro on one side, and a just as polished Ranchero on the other.  Rube was in the show and shine!  The dream I'd once upon a time had for her had finally come true!
I met Rube not long before I met Grace, and at the time the boys and I were in a fix.  I was recovering from back surgery, so couldn't work, and the damage I'd caused to myself meant it might be a long while before I could.  You can probably imagine that money was a big concern.  That was about the time the transmission went out in my truck again.  It had been thousands of dollars to fix it the first time, and my mechanic had already warrantied his work twice.  He very apologetically told me I'd bought a lemon, and wasn't touching my transmission again.  I was welcome to sue him if I liked, but he was there to make a living, and my truck had become a money pit for him.
Well, shucks…  I needed wheels to get groceries, make it to doctors appointments and the like, but I didn't have the thousands it would take to repair my transmission again.  I did have several hundred left, but once it was gone, it was gone.  As I sat staring out the window from my "comfy spot" wondering what my next best step should be, I noticed the old, frumpy looking step-side pickup across the street had a new for sale sign in it.  I was sure it hadn't moved since the boys and I had moved in, and probably didn't even run, but that didn't stop me from thinking "I'll bet I could afford that thing."  I told myself over and over, "Don't even think about it Jess!"  I really would have listened to my own reason, but as my eyes returned to it time and again I had to conclude that there just weren't any good options.
I didn't know my neighbor then, or anyone else in town really.  We'd only been here about six months, and before I went lame all I did was work.  Since then I was pretty much bed ridden, so…..
I watched through the window from my comfy spot waiting for my neighbor to be outside showing signs he might linger.  I certainly had the time to do so, and I wanted the timing to be just right so I only had to do this once.  It was a little ways down the street, and hobbling over there would take some effort.  It might be awhile before I could pull it off again if I missed him.
It took a couple of days before he finally did show without jumping in his car and driving off.  This time he popped the hood on an old jeep parked next to the little truck of interest.  He'd drug an extension cord along with him, and I expected a battery charger would be produced shortly.  Perfect!  I carefully stabbed my feet into my boots, ignored the laces, and told Dusty I'd be outside for just a bit.  Jade, my oldest, was seven and still at school; Dusty was about three, and currently so engulfed with the video game he'd just learned to play I knew he would still be exactly right where he was when I walked back in.  He probably wouldn't even notice I was gone.  Questionable parenting perhaps, but hey, things were getting pretty desperate.
Turns out my neighbors name was Brian.  He looked up from the jeeps engine bay at the sound of my loose boots scuffling across the gravel.  I pointed at the old ford as I walked near enough to ask,   "How much?"  I could afford it.  "Does she run?"  Yup.  "What year?"  Mostly 59′.  Hmmm…..  Though a little curious, I didn't ask what that might mean.  My intent was to get this done as quickly as possible, and I didn't want that purpose threatened by falling into a rabbit hole created by my own curiosity.  By then I'd hobbled up to where he stood.  He wrung his greasy hands into a rag I was fairly sure wasn't really helping much before he shook mine.  I caught his eyes for the next question.  "Does she stop and steer?"  His pause encouraged me to figure he was mostly the honest sort.  He held his hand out flat, palm down as it teetered, and his voice slowly raised a single word as he spoke, "Well,…?"  In my mind I finished his sentence for him, then silently asked myself, "Depends on what?"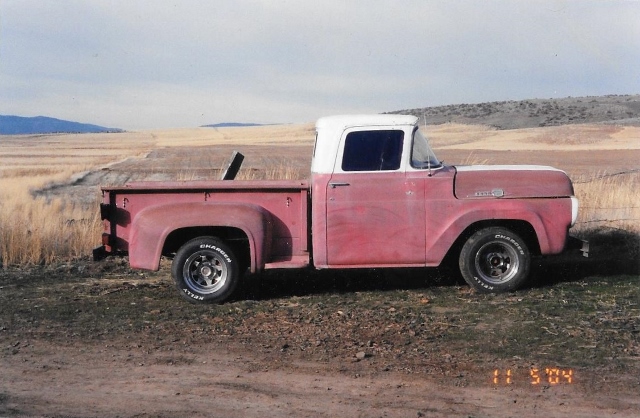 Brian opened the drivers door with a pop and a groaning creak.  The pop came from the fender arguing with the door skin over territory, but I figured the groan could be chased away with a squirt of penetrating oil easy enough.  He sat on a sheet of cardboard meant to keep ones britches from tearing on the rusty springs beneath, and started pumping furiously on a small nub of steel rod bent up toward the driver.  Once upon a time a gas pedal should have hidden most of this mechanism he was stomping on, but the way the end of the nub was worn to a fine polish told me there hadn't been a gas pedal there for decades.  The motor turned over several times freely enough; a fact I cautiously found encouraging considering the way our breath hung on the cold air.  Brian pumped some more and fiddled with the manual choke sticking out of the dash.  On the next try she fired and stayed running, though quickly began to load up and stumble.  With some quick, and practiced feathering to both the choke and the throttle, he soon had the motor leveled off into a fine, confident purr.  Except…  I felt a frown crease my brow and threw a confused glance at Brian who was already climbing out of the cab.
Brian saw the look, and a knowing grin filled his face.  I'm no expert by any means, but I know the different sounds different engines from different manufacturers make, and the sound coming from this little ford truck just wasn't right…  He slammed a meaty fist down on the hood to release the latch his other hand was pulling on, and after finding a prop rod that didn't belong there, dramatically gestured with such grand presentation toward the running engine I couldn't help but take notice.  Picture a large man wearing tattered work clothes stiff with grime, and a few weeks worth of beard that still carried bits of something crumbly attempting to look like that lady from wheel of fortune as she introduced some amazing prize.  It suddenly occurred to me that I would probably enjoy having a beer with this guy.
I looked under the hood.  Then I looked again, still feeling a bit confused.  Glancing at Brian didn't help at all.  He still silently wore that enormous grin, and seemed content to wait for me to figure it out for myself.  Once more I leaned into the engine bay, determined to convince myself that I really was seeing what I was seeing.  This old ford had a dodge engine, and presumably a dodge transmission behind it.  I was familiar with this little v8, and knew it to be a reliable engine sure enough, but nothing especially remarkable.  My confusion persisted only because my brain simply couldn't conceive any logical reason as to just why in the world anyone would ever go to such effort to retrofit such a humble mopar engine and tranny into this old ford.  It just didn't make sense.
Down the rabbit hole we went…  Apparently a previous owner had done it out of desperation many years before.  Like me, he had needed wheels, but didn't have much money.  He had a wrecked car with a good motor, and this old pickup with a very broken motor.  All those parts from a dodge car that were never meant to be in a much older ford pickup must have been quite a chore to install.  As I looked closer, I began to notice some rather ingenious, albeit somewhat sketchy solutions to overcome the challenge.  My admiration for this previous owners determination began to grow.  I could imagine an older working class man cussing away a good many weekends with bleeding knuckles (and hopefully a precautionary tetnis shot) until all his efforts finally had things working together,… for the most part.
Over the years she wound up with several other little bits and pieces that ford hadn't put there.  The radiator for instance was from a Chevrolet, and the floor shifter attached to the dodge automatic came from one of those economical sports cars all the American manufacturers insisted on producing in the eighties that everyone is still to embarrassed to admit ever owning.  Don't ask me which one it came from.  I don't know, and really didn't care at the time.  The questionable but sturdy installation of this shifter meant the driver had to lean over some fair bit to operate it.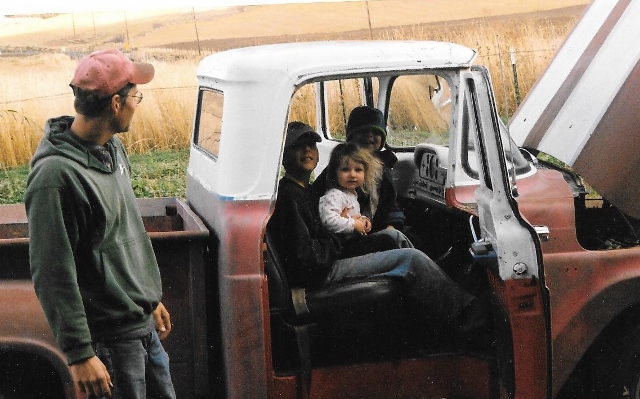 It feels like a confession to say that I was rather amused to find some of the bits and pieces that held Rube together were intended for home improvement.  Over all everything seemed to be bolted, welded, riveted, and even glued together well enough, so,… I figured there was only one question left.
I briefly explained to Brian that I simply couldn't be working on this thing anytime soon, and just needed something to get me and my boys around town for awhile.  I wore a skeptical look on my face when I asked, "Nothin' important is gonna' fall off this thing while I'm driving it, is there?"  He lightly chuckled as he shook his head, "Oh no, nothin' like that.  You'll prob'ly wanna pay some mind to the steering, but three good pumps on the brake pedal and she'll stop just fine!"  He offered a test drive, but I could only shake my head no.  I was done, and very much wanted to lay down.  With my frozen words hanging around my head, I pulled what was left of my life's savings out of my pocket and said, "Well… I guess I know where you live." and officially took his word for it.  I counted out his asking price and handed it to him.  With the bill of sale and title dealt with, I asked, "Mind if she stays here until I need her?"  He indicated that it wasn't a problem by raising the wad of cash I'd just filled his fist with, "Sure, whatever works."
It was and still is a 1959 Ford half ton, step side pickup.  Well,… mostly.  Someone had painted her red and white with a bristle brush years before, and carefully added blue piping between the two colors.  I'm guessing it must have happened in the seventies when that sort of obnoxious patriotism was still tolerated.  Brian needed the little truck to roll, so he put a matching pair of incredibly small, radial passenger car tires on the front, and tall, heavy lug meats on the rear.  The bias ply meats were so weather checked I really wasn't all that suprized when an earwig crawled out from one of the cracks while I was inspecting them.  None of the rims matched by the way.  I decided the clumpy grey moss, and brilliant, yellowish orange lichen prevalent in all the nooks and crannies of the bodywork simply added character.  Everywhere I looked I was reminded of Rube Goldberg, and so as I was describing my new purchase to my older brother over the phone, I said, "I think I'll call 'er Rube."
I didn't spend much time driving Rube in the following weeks, but ever so slowly, and not without perfectly justified doubts for my own sense of reason, I began to fall in love with her.  I just couldn't deny some of her efforts to accommodate.  The doors swung wide to reveal a low step formed in the cab floor just inside the opening; a step I was grateful to utilize on bad days.  The seat seemed just the right height for my butt to slide in on without any need for the rest of me to bend, raise, or lower much.  It was about as convenient for my crippled self as I could ask for.  Well,… except for the dang steering column.  It plunged nearly straight down from the steering wheel through the floor board between the drivers feet.  Getting my right knee past this with any measure of pretended grace took practice and concentration.
Months passed, and as I healed and spring weather tempted, some improvements were made to Rube.  I had help of course.  Jade's incessant curiosity made him always available to hold, push, turn, or fetch.  It was hard to sound stern when his compulsory desire to understand how things worked brought the bill of his ever present cap between my eyes and what my hands were working at.  At times like these Dusty could usually be found cheerfully standing on the seat behind the wheel, rocking it back and forth as far as the worn out steering box and ball joints would allow.  He was always headed for one of those fanciful realms Spiro the dragon would take him to on his favorite video game.
Together we created door seals with that grey, sticky backed weather stripping meant to stop a draft on a homes exterior doors.  For some reason I had a fair quantity of the stuff, but I'm quite certain I'd never bought any myself.  Great gains were made to the accelerator assembly with Jade behind the wheel, and myself stuffed under the hood hollering repeatedly, "No bud, just stomp on the shiny nub and hold it there while I tighten this!"  I'm pretty sure parts from a bicycles' brake handle made it's way into this modification.
A trip to Everett where my big brother still lives proved to be fairly lucrative to Rubes demeanor.  The junkyards there are vast and common on old highway 99.  We came home with a decent bench seat from a dodge pickup, and a four barrel intake and carb from an enormous plymouth station wagon that replaced Rubes leaking two barrel nicely.  While we were at it, we found a functioning turn signal assembly I could mount to the steering column; the kind one would expect to see in an old grain truck.
The door windows on Rube were both cracked to the point of being hazardous, and the wing windows were decrepit beyond any reasonable repair.  I decided to rip everything out and put solid, custom cut windows in, eliminating the wing windows altogether.  Jade held the cardboard in place while I outlined the goofy shaped opening with a sharpie.  I'd already ordered new flexible window channel from a catalog, and glued it in place with liquid nails; a product contractors use to keep the underlayment in a homes floors from squeaking, among other home construction type things.  The guy at the local glass shop cut and shaped the windows for what I considered an incredibly fair price.  I think he rather enjoyed doing something a little more creative than Removing and replacing windows for a change.
Jade insisted the new windows should be tinted.  I'd suggested the idea to him just for fun, but his persistent questions about how to go about it got the better of me.  Remember he was seven at the time.  It certainly wasn't a priority for me then, but I have to admit, it did turn out looking pretty cool.  Unfortunately the channel I'd installed didn't follow the new glass far enough down into the belly of the doors, and so rolled all the way down, and with the winds help, one of my boys (neither owned up to it) slammed it hard enough to crack the passenger window within the first few weeks.  Months later the drivers side window suffered the same fate by my own hand.  Yeah,… I was a little bummed, but for what it's worth, to this day I'm still convinced the film of window tint helped hold all the pieces of broken glass together.
Months later the transmission in Rube began to act a little wonky.  This wasn't a computer controlled tranny like the one in my other truck, so I called a buddy of mine who lived about an hour away who had been trained as a diesel mechanic.  I asked, "Have you ever torn down an automatic transmission?"  His response was, "Oh sure, that's easy…"
The rebuild kit from the parts house was surprisingly cheap, so I ordered it and headed for my buddies shop as soon as it arrived.  Removal and tear down of the transmission went off without a hitch, and I remember being pleased that it really hadn't taken that long.  While I started tearing open packages of new parts, I began asking him what went where.
My good friend, whom I'd known since we were freshman in high school, and was in fact the one person that encouraged me to come to this country for work in the first place, just stared at me with a blankness that made my guts wrench.  Struggling to keep my tone even I said, "You told me these things were easy to rebuild!"  His response was, "No I didn't!  You asked me if I'd ever torn one down.  That's easy; but that don't mean I ever put one back together again!"
Some of the new parts never did get installed, and a strong suspicion crept over me that some of the old parts that didn't get re-installed probably should have been.
All said and done, everything worked almost perfectly.  I say almost only because a few days after the rebuild, the boys and I were halfway to Spokane when Rube lost all but first gear.  I racked my brain trying to imagine what could be wrong as we pulled into Ritzville very, very slowly.  As we came to a stop, I was hoping well beyond all rational hope to quickly find a simple solution as to what might be wrong.  I crawled under the truck, and fortunately discovered the problem almost immediately.  A nut that had been spun on finger tight in the linkage re-assembly had been missed during the final torque of things and came loose.  The wickerbill was turning, but that funny shaped arm meant to push the rod on the hoodinkerflunkus that selected the next required position just waffled on the shaft.  The squirrels inside were obediently spinning, but they didn't know what to do.  I tightened the nut.  Problem solved.  We resumed our hours long trip unworried, and never had a problem with the transmission again.  Good squirrels!
After a couple of mostly uneventful years, and occasionally some unexpected fanfare from passers-by with lit faces and raised thumbs as we passed, Rube eventually got parked.  I'd healed enough to go back to work proper and could afford something a little more respectable to drive.  My lovely new wife never did quite see the charm in Rube anyway.  A couple more years passed as the weeds grew up around Rube and two other rigs I didn't have the skill, time, or interest in resurrecting.  Frankly, I was getting tired of mowing around them.
For some reason long about then, I kept running into a fella at the parts house that seemed more and more interested in Rube as I further described her with each encounter.  Finally, and feeling sure his skills and passion would be in the better interest of Rube, I let him buy her and another old truck I'd owned forever.  The deal hinged on one condition however.  He had to take the third truck away as well; the one with the bad transmission that forced me to buy Rube in the first place.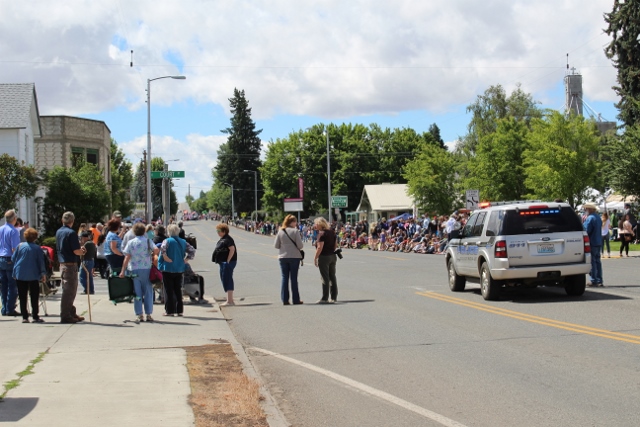 I made it to the parade with time to spare, and took a few pictures of the gathering crowd as I walked across the cordoned off street.  As I did, I saw the very beginning of the parade clear at the other end of town.  Even in our small town that meant I had a good long while to wait.  In the parking lot of an empty storefront I found a man sitting alone on a cooler in the bed of his pickup waiting for the show.  I asked him if I could set the precious camera on his bumper while I took a dip.  No problem.  I knew we both had a lengthy wait, so I encouraged a bit of conversation.  "Looks like more cars in the show and shine this year."  I was a little surprised at how it caught his attention.  He sat forward on the cooler to say, "Oh yeah!  My boy entered his pickup!"  My typically unreliable judgement suggested that like me, this man might be of about the right generation to have a boy just coming of age,…  that unquenchably ambitious age when young men might think the possibilities of a truck like Rube might be worth serious consideration.  I asked, "Which one is it?"  With a lazy wag of his hand that didn't even raise his elbow from his knee, he said, "Oh, It's a 59 ford.  Nothin' special, but…"
Against whatever odds, I just happened to have leaned on the tailgate of Rubes new owners father.  I couldn't help but blurt out, "Rube?  Your boy entered Rube in the car show?!"  He paused in the middle of what he'd been saying from my interruption, and looking a little confused asked, "Rube?"  In MY mind Rube was Rube and everyone should know that.  Somehow in that moment it hadn't occurred to me that other people might not know her name.  I said, "Yeah! I named her Rube.  You know, Rube Goldberg?"  Without a pause he started laughing.  He knew his boys truck alright, and was certainly familiar with Rube Goldberg.  He said, "That's perfect!"  The man's wife appeared from the surrounding crowd about then.  She stared at me with a polite, but uncertain smile as her husband explained that I had once been an owner of Rube.  I'm sure they thought I was more than a little odd as I spilled enthusiasm all over the place talking about some humble old truck their boy happened to own, but I guess I'm fine with that.  After all, finding Rube in the long line of cars and trucks had made my day after a very long streak of days that hadn't been made.
The mans wife must have figured I was harmless enough despite my failing struggle to contain my exuberance.  I'm not sure if it was a question or a statement when she said, "You'll want to meet Nathan.!?"  She led me through the crowd about half a block to where her son was waiting for the parade with his girlfriend, and I shook his hand.  He seemed very polite, but seemed somewhat confused as to just why I was telling him how much fun I'd had owning Rube.  He did go so far as to say he meant to keep the awful paint job just the way it was, hoping to clear coat over it someday.  I laughed out loud, and said that was great.  Rube was, after all, a rat rod long before rat rods were cool.  All said and done, I think Rube found a good home.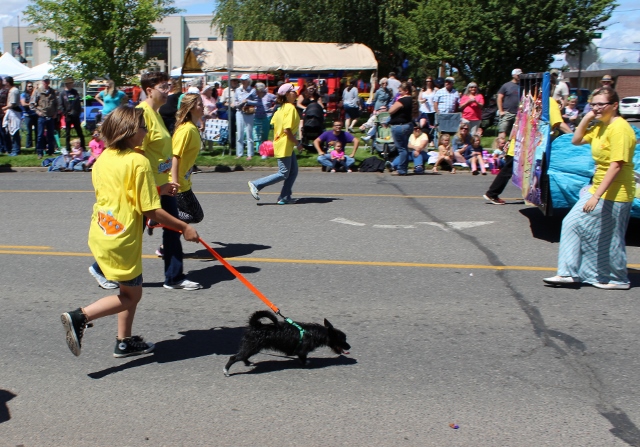 At the end of the day, Grace wasn't all that grumpy with me for my dismal attempts at photography.  Fortunately her fancy new camera will take a whole bunch of pictures really fast if you hold the button down.  A feature I utilized heavily.  I figured that from the several dozen or so pictures, at least one of them might not be deleted.  You can imagine my desire to place a brilliantly yellow faced emoji with a beaming grin right about here.  I've only just discovered the existence of emoji's, and though I'm not sure if they're worth the bother, my ladies insist they are a cool thing!  And so…..
With Graces' help I texted Jade (who somehow is now twenty three) some pictures of Rube backed up to the curb in the show and shine.  His response was, "My truck!  Does he wanna sell it?"  I described how unlikely that was.  All I got back was a whole bunch of emojis' crying buckets of tears.  I texted back with,"Oh poo! Rube is making yet another new owner happy," and so far as I can tell, that's exactly what she's doing…
It's funny how "things" can become a benchmark for a time and place in a persons life.  Those were hard times for us back when Rube was our only mode of transportation.  I hadn't met Grace yet.  I certainly hadn't met Jesus yet…  Anywhere my boys and I needed to go, we trusted Rube to get us there.  Somehow, she did a lot more than that.  I pray she'll be as accommodating to the young man that owns her now.  Of course, if he had a mind to sell her… I might know a guy.