These breakfast muffins are wonderful, beautiful, healthy, delicious, cute, AND easy to make!
I would say more good things about them but I ran out of adjectives and you probably just want the recipe anyway, instead of reading on and on about how yummy these are, and how they won't take any time at all to whip up a batch for breakfast, and how they are a great way to use up those overly ripe bananas that are taking up space on your counter….. okay, okay….here's the recipe:

Banana Maple Muffins (Dairy and Sugar Free)
Author:
sufficientacres.com
Ingredients
2 cups all purpose flour
1 teaspoon baking soda
½ teaspoon baking powder
½ teaspoon cinnamon
¼ teaspoon salt
½ cup 100% pure maple syrup
¼ cup melted coconut oil
3 over ripe bananas smashed
1 egg
¼ cup almond milk or what ever kind of non dairy milk you prefer
Instructions
In a medium size bowl stir all of the dry ingredients (flour,baking soda, baking powder, cinnamon and salt) together.
In a separate bowl smash the 3 over ripe bananas with a potato masher then add the maple syrup, coconut oil, egg, and milk. Stir well.
Add the dry ingredients in with the wet ingredients and stir until moist.
Fill greased cupcake tins a little over half full with the batter and bake in a 375°F oven for 15 to 20 minutes.
Remove from the cupcake tins as soon as they come out of the oven.
These are such a wonderful, dairy free treat…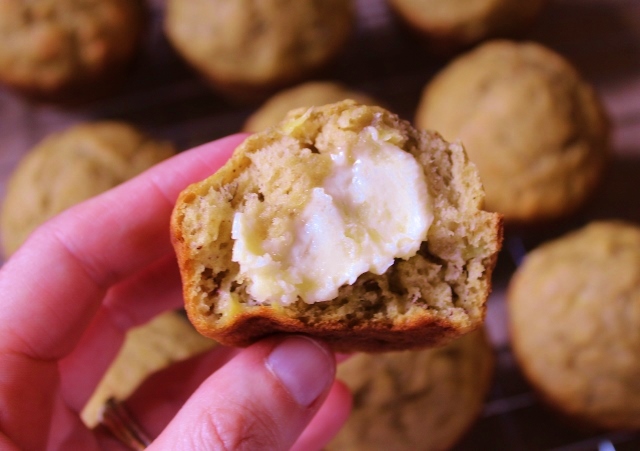 Until you smother them in butter……. 😉