This is the #1 most popular recipe I put on my old blog!!!  I wish I could have transferred all 127 comments over to this blog, but sadly couldn't.  I learned way more about sausage than I ever thought I could know from my readers…lol!  I had readers that used this recipe to make up to 50 pound batches of sausage!!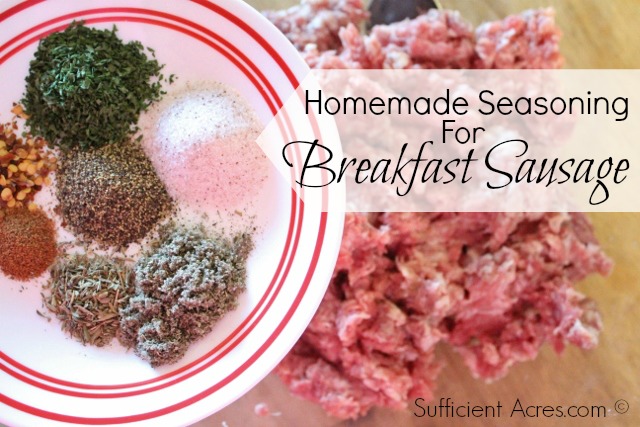 I had no idea how many different kinds of meat you could use to make sausage, even without mixing in ground pork.  Folks say they've successfully used ground turkey, chicken, venison, goat, elk and even squirrel to make this breakfast sausage!  I also had several people from other countries like Guatemala, Germany and Spain tell me that they don't sell breakfast sausage in the stores where they live and were happy to find this easy recipe so they could enjoy one of their favorite foods again!  So COOL!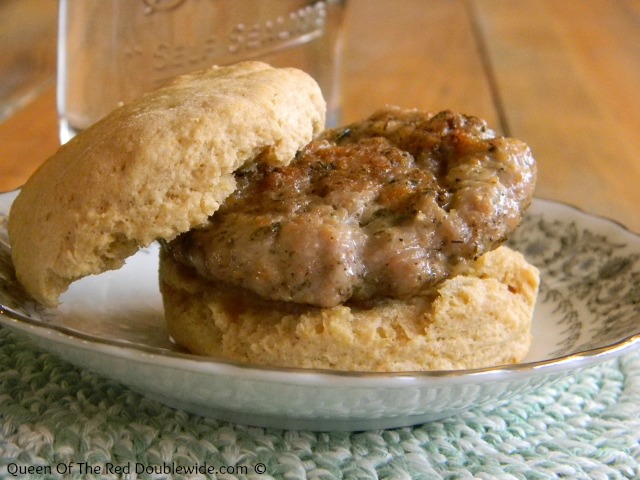 This really is a yummy recipe that can be easily altered to fit your needs and preferences.  I originally posted this recipe because of my sensitivity to corn.  Did you know most store bought seasoned sausage has corn syrup, MSG, and other questionable ingredients?  I've been using my own seasoning mixes for over 4 years now, and my family loves it.  This sausage works great to make sausage patties or crumble up in your favorite breakfast dish.  (sausage gravy and biscuits anyone?)
All you need to do is mix together the list of herbs and spices from the recipe box below..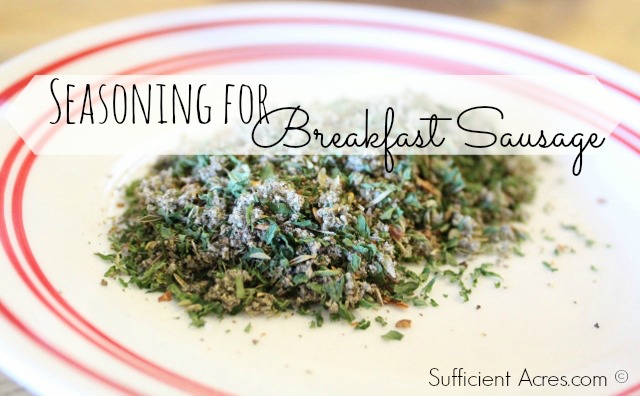 Blend the mix together with 2 pounds of ground pork.  You can cook it right away but I think it tastes better if you refrigerate for 3 to 24 hours to let the flavors blend before cooking.  (and that's it!)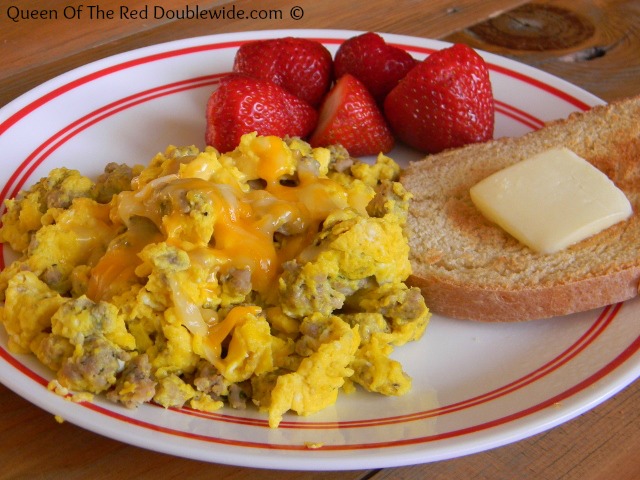 Here's a little tip for using fresh herbs.  Dried herbs are much more potent than fresh, so if you have fresh herbs that you want to use as a substitute for the dry ones you will need to use 3 times more than the recipe calls for.

Homemade Seasoning For Breakfast Sausage
Author:
Sufficient Ares.com
Ingredients
1½ teaspoons rubbed sage
½ teaspoon thyme
1 teaspoon ground pepper
1½ teaspoon salt
1½ teaspoon parsley flakes
¼ teaspoon red pepper flakes
¼ teaspoon ground nutmeg
Instructions
Stir the spices together and mix into 2 pounds of ground pork. You can cook it right away but it tastes better if you refrigerate it for 3 to 24 hours to let the flavors blend together.