I've never been a picky eater, but as a kid meatloaf was definitely not one of my favorites.  After we got married Jess said "I would sure love some meatloaf, it's my favorite".  I had never made meatloaf before and wasn't really thrilled that my husband was obviously going to want it every once in a while.  I put off making it for as long as I could, but then I happened to come across a recipe in one of my cookbooks and gave it a try.  I was pleasantly surprised at how much I enjoyed it!  In the past 15 years I've tweaked the recipe and tried other versions, but I always come back to this one and I have to admit it's become one of my favorite dinners too!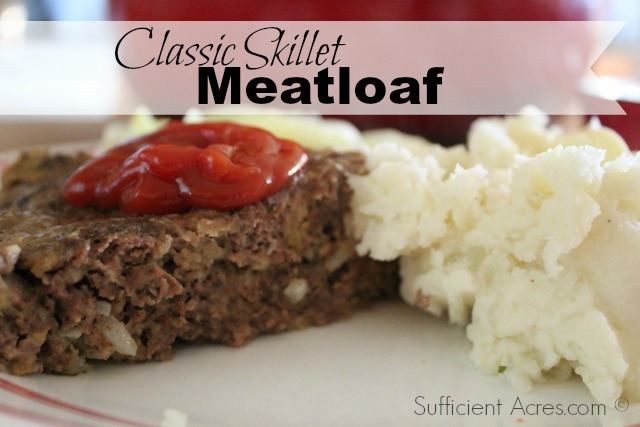 I love using a skillet to make this meat loaf simply because it takes much less time than cooking them in a loaf pan.
The secret to a good meat loaf is good, lean ground beef, you will need 1 and a half pounds of it.  You will also need 1/2 a cup of finely chopped onion, 2 eggs, 3/4 cup milk (any kind), 2/3 cup crushed saltine crackers (or oatmeal), 1 teaspoon salt, 1/2 teaspoon of rubbed sage and pepper to taste. Preheat the oven to 350 degrees.  Mix all your ingredients together thoroughly and put them in a 10 inch skillet (or something close to 10 inches).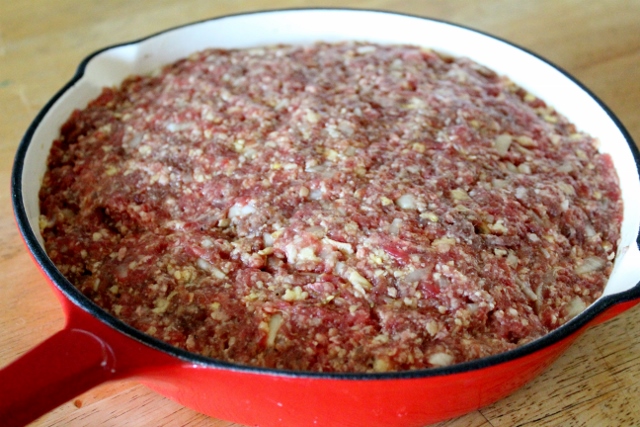 This one is a 9 inch enameled skillet and it worked great.  Place it in the preheated oven for 40 to 45 minutes or until no pink remains.  Let it set for about 10 minutes before slicing.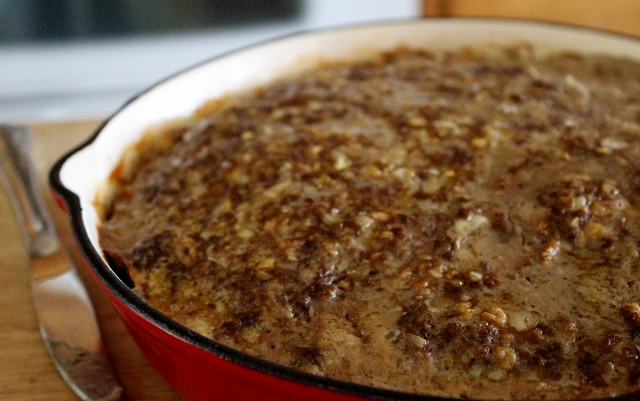 In the original recipe there is a ketchup, Worcestershire sauce, and brown sugar topping that you can mix up.  It's DELICIOUS, but not everyone in my house likes it, so I don't add that anymore. I did add it to the printable recipe card below!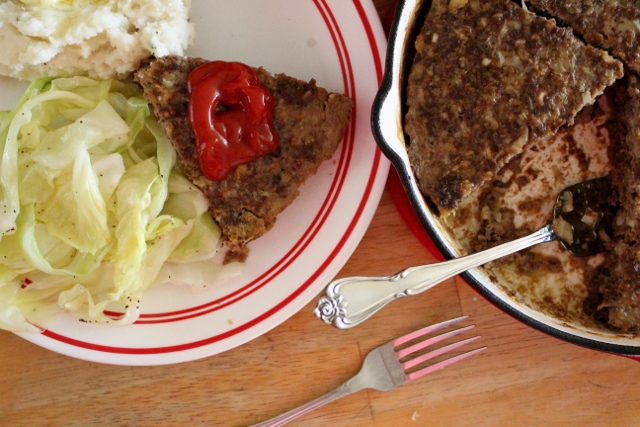 What an easy, hearty meal and the leftovers are great!

Classic Skillet Meatloaf
Ingredients
1½ pounds of lean ground beef
½ cup finely chopped onion
2 eggs
¾ cup milk (any kind)
⅔ cup crushed saltines or oatmeal
1 teaspoon salt
½ teaspoon rubbed sage
¼ teaspoon pepper
Optional topping:
½ cup ketchup
¼ cup brown sugar
½ teaspoon Worcestershire sauce
Instructions
In a large bowl combine the ground beef, onion, eggs, milk, saltines, salt, rubbed sage, and pepper. When you have all the ingredients incorporated place it all in a 10inch skillet (or something close to 10 inches).
Optional topping: Combine the ketchup, brown sugar and Worcestershire sauce and spread evenly over the top of the meat loaf mixture.
Bake at 350° for 40 to 45 minutes or until no pink remains.
Let it stand for about 10 minutes before slicing.
Tip - If you use a loaf pan cook for 60 to 65 minutes.
This recipe was adapted from a recipe I found in the 1998 Taste of Home Annual Recipes Cookbook.
This post was shared at: The Simple Homestead Blog Hop –