I just shared how to make applesauce in the slow cooker, so I thought this recipe should come next.  It just might be my favorite way to use applesauce!  It doesn't have any added sugar so I don't feel guilty about eating 4 pieces of it before 10 a.m.! 😉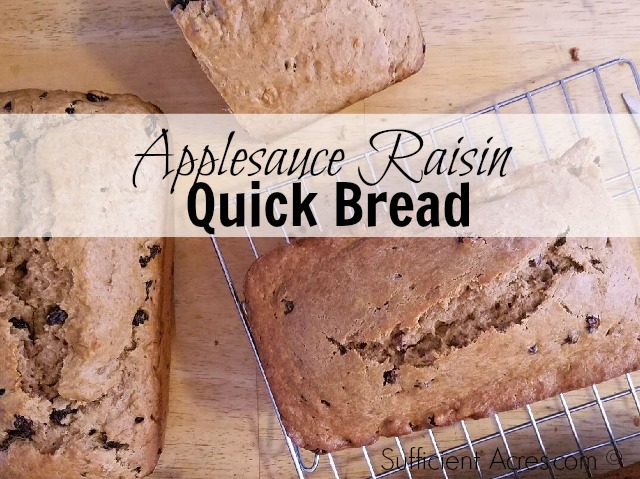 Contrary to the picture, this recipe will make 1 loaf of bread.  I made two double batches the other day because I had tons of applesauce and the loaves freeze well.
Start by putting all your dry ingredients in a big bowl.  You need flour (whole wheat or all purpose flour will work), baking powder, baking soda, salt, cinnamon and nutmeg.  In another bowl measure in all the wet ingredients.
You will need applesauce (I used our homemade applesauce with no sugar added but any applesauce will work), eggs, and melted butter or coconut oil.  If you use powdered stevia, add it to your dry ingredients, if you use honey or maple syrup add it to your wet ingredients.
After you have your dry ingredients and wet ingredients all mixed up, stir them together and fold in the raisins.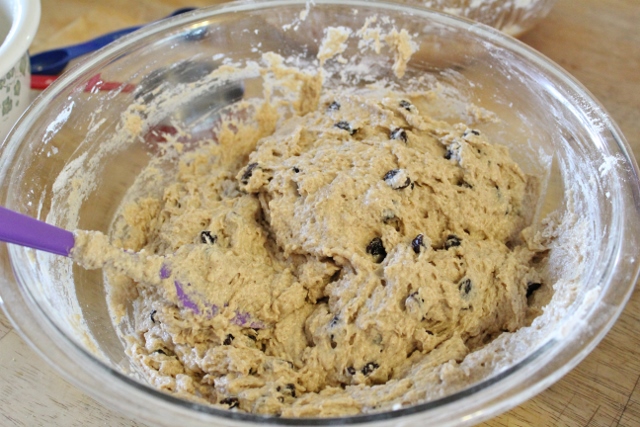 Then put your dough into a greased loaf pan.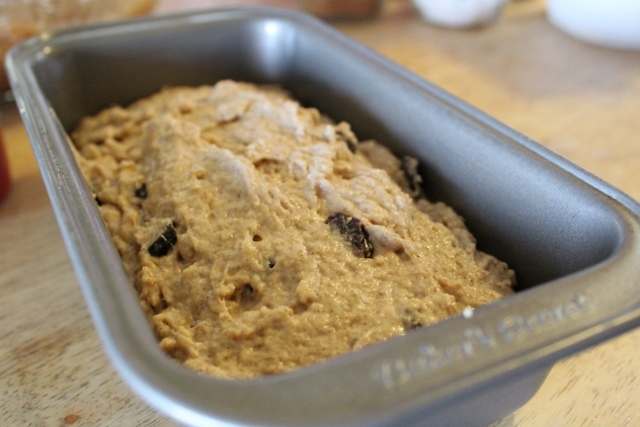 Bake at 350 degrees for 45 to 55 minutes.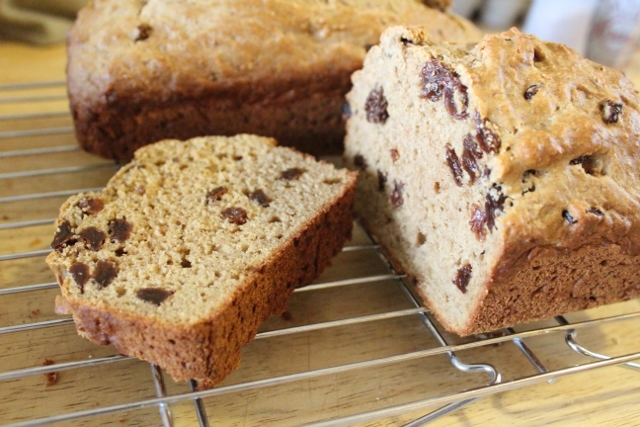 As I said, this recipe is for one loaf of bread, but the pictures were of a double batch.

Applesauce Raisin Quick Bread
Ingredients
1½ cups whole wheat or all purpose flour
3 tsp. spoonable stevia or ½ cup honey or ½ cup maple syrup
½ tsp. baking powder
½ tsp. baking soda
¼ tsp. salt
1 tsp. cinnamon
½ tsp. nutmeg
¾ cup applesauce - I used the no sugar added
2 eggs
¼ cup butter, melted - melted coconut oil would work too
½ cup raisins
Instructions
Mix the dry ingredients in one bowl and the wet ingredients in another bowl. Stir the wet ingredients into the dry ingredients and fold in the raisins. Put the dough in a greased loaf pan and bake at 350 degrees for 45 to 55 minutes.
This post was shared at:
Simple Homestead Blog Hop
–