Every year I dread fall, but then it arrives and I'm surprisingly very ready for it!  The weather is gloomy today as it alternates between rain and fog, but that's probably a good thing considering it's our first official day of homeschooling and the yucky weather makes it easier to concentrate on indoor assignments!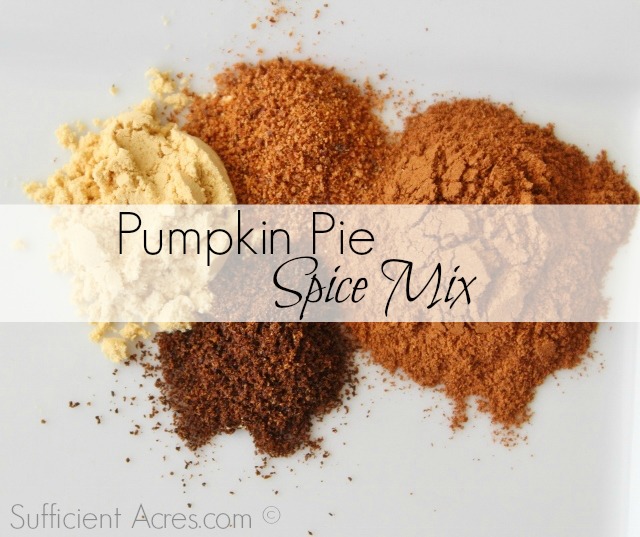 What's your favorite part of fall?  Pumpkins, crisp apples, crunchy leaves, cool weather, new school supplies, hoodies?  My favorite is a cozy, warm house full of fall scents.  Yesterday I made apple sauce and added some of this pumpkin pie spice mix to it……. Nummm!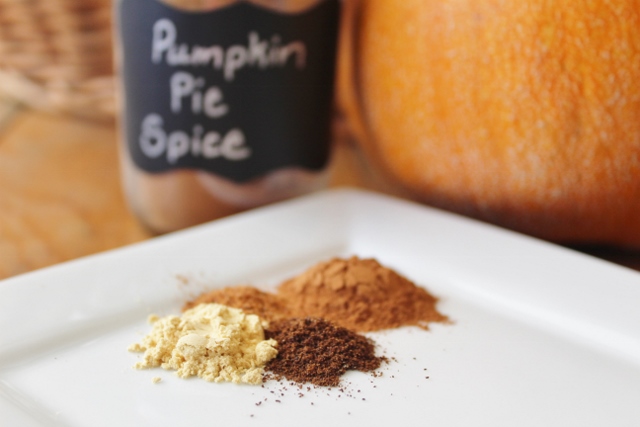 For a half a cup of pumpkin pie spice mix you will need 1/4 cup ground cinnamon, 2 tablespoons ground ginger, 1 tablespoon ground nutmeg and 1 tablespoon ground cloves.   You can easily double this recipe if you plan on using LOTS or to just make one teaspoon worth.  Here are the measurements: 1/2 teaspoon cinnamon, 1/4 teaspoon ginger, 1/8 teaspoon nutmeg and 1/8 teaspoon cloves.
Now, the obvious thing to make with pumpkin pie spice mix would be pumpkin pie, but there are so many other things to use this mix in.  Like apple sauce, pancakes, pumpkin dip, popcorn, pumpkin bread/muffins, smoothies….and so much more!

Homemade Pumpkin Pie Spice Mix
Author:
Sufficient Acres.com
Ingredients
¼ cup ground cinnamon
2 tablespoons ground ginger
1 tablespoon ground nutmeg
1 tablespoon ground cloves
Instructions
Measure all the spices into a small container or jar with a tight lid and shake until well combined.
What are you making with your homemade pumpkin pie spice mix?