Here's another short story by Jess that really did happen!
---
My wife's little brother Jacob is something special, as I'm sure everyone who has ever met him would agree.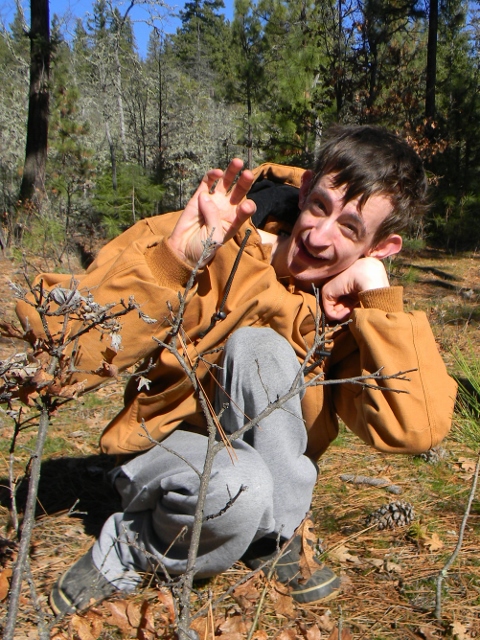 Grace is the only biological child of Dave and Kathy, and for some reason the good Lord saw fit that she be the only one.  Just so you know, Dave is an old school farmer.  Up before the sun, supper after it sets.  If it breaks, you fix it.  If it's in the way, you move it.  If it won't move, you farm around it.  That's Dave.  Kathy,… well,… she does everything else.  They decided to adopt more kids when Grace was about nine, though Jacob came along some years later.  He was a fetal drug and alcohol baby.  Terribly sad, yes, but that's a soap box I've no interest in dusting off here and now.  Dave and Kathy's kids all grew up in a good home, and none of them seemed to mind not having things most folks would consider necessary, like gravel on the driveway, a phone, (I mean no phone whatsoever! A c.b. doesn't count.)  or more than three snowy t.v. channels from the aerial antenna,… you get the idea.
Eighteen miles east of town there's a gate in the barbed wire fence allowing access to the fields north of the road.  Few would ever pause long enough to consider the dirt trail that wanders off through the fields until it falls out of sight.  Well,… that "goat trail" is actually a driveway, and if your rig is able to follow it for another mile and a half you'll come upon a old three story farmhouse.  It's perched high on the shoulder of a steep canyon that quickly falls a VERY long ways to Rock Creek at the bottom.  Think middle of nowhere, and that's where it happend.
Wind energy companies came here looking for two things in particular.  A lot of wind, and a lot of open space.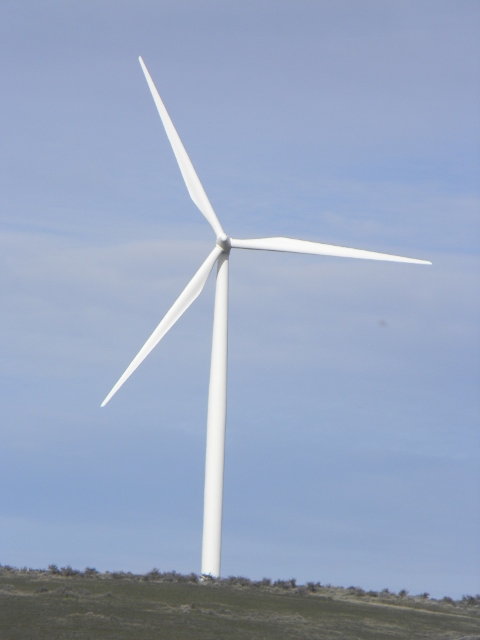 Grace's family was surrounded by a whole bunch of both, so it wasn't unexpected that someone might show up pitching the obligatory personal relations stuff right about the time contracts were being signed and millions or more dollars were being committed.
And so it was, sure enough, that a well educated man in a shiny new pickup (white of course,… they're always white) came to find my wife's parents home.  I don't doubt that he was simply hoping to explain the changes that would soon be taking place around their home, but he was in for so much more.
I'm sure you can imagine what a man that's used to working in more urban areas might have thought driving into this place.  He must have felt as though he'd just stepped into a scene from deliverance as it was, but then,… he spotted Jacob!
Jacob was in his early twenties at the time, and though physically an adult, he never outgrew his favorite childhood superheroes.  Fortunately he didn't get very big either, so gift shopping for Jacob is pretty easy.  Just buy a size large costume emulating the character he seems most enamored with right after Halloween when such things are on sale, and save it for his next birthday.  Always a hit.
My mother in law came away from her chores to meet the man stepping out of the tastefully badged company rig in her driveway.  It was rare to have an uninvited guest there, so his presence was noteworthy in and of itself,… but his appearance made it all the more so.  He was clean shaven, wore an upscale version of work clothes that might possibly have been ironed the night before, and he wore work boots that though weren't brand new, seemed never to have suffered any mud or dust, let alone fresh manure.  He held an untarnished, stainless steel clipboard that folded over to protect the precisely ordered papers inside.  From this he pulled a few sheets out for Kathy to have, but even in what locals around here would consider a mild breeze, he struggled to keep the contents of the clipboard in place.  His efforts weren't graceful by any means, nor were they without some profanity.
Now,… I hope everyone understands that I love my mother in law dearly, and would never describe anything about her personality as a flaw, but,… I've never known her to be one to notice subtle nuances in a persons behavior as much more than simply "odd".  She's a no-nonsense, get it done yesterday type of person, and to hear of something more that that from her about the man that came to visit caught my ear.  Even still, I would never have imagined that what eventually made this particular visit remarkable is the legend born of it.
He began by telling her all the benefits his companies wind farm would bring to the community, and what a small inconvenience it should be for the locals during construction.  She only had a few questions, mostly to be polite.  The grape vine was far more enlightening than this man could ever be.  The conversation went along as expected until Kathy noticed the man becoming distracted (or perhaps, "fidgety"?)  He kept shifting his weight to one side to look past her.  As he did his eyes would widen slightly, and his general expression became that of uncomfortable wonder.
Shortly the man's distraction began to muddle up their conversation about windmill stuff to the point where no further profit could be made of it, so he thanked her for her time and excused himself seeming a bit anxious to be away.
Feeling a little bewildered by the mans behavior, Kathy turned around to look in the direction the man kept glancing toward during their conversation.  She saw a couple barn cats at play, the chickens scratching around in their pen, her turkeys that were still consuming generous amounts of feed without gaining much weight, and the horses, pigs, and sheep were in the other direction…  Her gaze lifted beyond the pens and through the locust trees to where she could see Jacob some ways off playing in the field.  Her only thought was, "He's gonna be covered in ticks again!"  She turned back to watch the tidy man back out of her driveway wondering what could possibly have disrupted the guy's practiced confidence.
Kathy gave a wave as he drove away and walked back up to the house.  At the porch she heard a hoop and a holler from the field.  From there she had a clear view of Jacob running as fast as he could through the tall grass trying to keep his black cape billowing on the breeze his speed created.  He yelled at something well beyond her sight will all the robust intimidation his thin voice could muster, "I'm Batman!" Probably a grasshopper.  Hopefully not another rattle snake.  There's already a cup full of rattles on the sill above her sink, and they were beginning to smell.  She gave a quick glance down the driveway where only the settling dust marked the tidy man's departure.  Looking back to Jacob dramatically pretending to be batman out in the middle of the field she suddenly understood why the man seemed a bit unsettled.  She stepped back into the house chuckling to herself, thinking "Yup!  That's Jacob!".  I heard this story the first time not long after.
A few years later I got a call to help build up the grade for a substation yard.  It was in the Columbia Hills high above the highway, and more than twenty miles from my wife's families home.  Construction on the wind farms was slowing down, and the men I'd worked with early on were long gone; replaced with new men on new crews from still other far away places.  I was using a dozer to spread the thousands of tons of crushed rock needed to raise the grade for a pad that covered a couple of acres.  As is always the case, the long string of trucks hauling the many miles from the pit wadded up behind the slowest truck.  This left me with twenty minutes or more, several times a day waiting on them.  On one break between rounds I wandered over to a group of men standing at the edge of the pad.  All were wearing white hard hats and blaze orange vests, and most had the stainless steel clip boards under their arms.  They had gathered to check on progress and coordinate things between themselves before their own work could begin.  Things had obviously degraded into little more than spreading verbal manure.
I already knew that the project supervisor was from Arizona, and that he would be heading home soon after this sub-grade was complete.  He'd been around longer than most of them, and was reciting some of the more interesting things he'd witnessed during the many months working here.  I'd stepped in towards the tail end of an apparently good yarn he'd just spun which left all the others laughing heartily.  As their laughter tapered off, he turned serious and lamented just one regret from his time here as he stared at the ground.  In all the time he'd spent in these hills he'd never actually seen Batman…  My ears perked right up!
Some of my favorite stories are born amongst the crews of men working long hard hours to achieve remarkable goals.  The bright blue seagull, the lady in the green shirt, blaze orange zombies… All are based in truth or they wouldn't be worth telling, and everyone knows it.  So,… for this guy to suggest that he missed the opportunity to see Batman for himself while he was here brought an exaggerated pause full of silence from the men around me.  While their faces screwed up into looks of curiosity and or disbelief, one of them finally asked "WHAT"!  The supervisors grin was wry as he let them wonder for just a moment longer.  He knew he had their attention, and I was suddenly aware that this old boy truly loved to recount a good tale.
He started with; "Listen guys,… I don't know if this is true or not, but a fella I was working with from another crew last year heard it twice from different men on separate job sites…".  He casually gestured to the west while he was speaking, indicating he'd been somewhere that direction at the time.  Dave and Kathy's home was over twenty miles to the east from where we were standing.
I stood there listening to a story I'd already heard a few years before, knowing it to be mostly true, coming from a man not sure it it wasn't just a myth started by a bored laborer at the bar some years back.  The man went on to describe the "legend" quite well.  As I listened, I struggled desperately to keep my mouth shut and not add this or that little tidbit of detail apparently lost in the many retellings.  Still and all, his version was surprisingly accurate, though somewhat more colorful than the first telling I'd heard.  This was mostly due to the profanity the supervisor used to tell it.  I figured it was probably necessary.  A measure of translation was likely in order for some of these men.  They had gone quiet, and seemed to lean in with wonder at the possibility of it's truth  The way the teller softened his voice reciting the conversation Kathy had with the man, then boomed exclamation at the sighting of some guy in a Batman costume streaking in and out of sight in the middle of a hay field.  His ending was as expected,… "so he jumped in his rig and got the hell out of there!"  I felt an unheard sigh before the laughter came, and I briefly wondered if it wasn't the hush of satisfaction as they digested a tale very well told,… but then the questions came.
Oh, there were some legitimacy issues, and some concern over local old timers spreading fictitious tales for their own amusement.  It's no secret some of the locals aren't above such things.  The supervisor simply raised his hands with a big smile on his face and said, "Gentlemen!  That's the way I heard it.  You make of it what you will."
Yes, the story had become a bit more incredible than I knew to be true, but it was still essentially what had happened, and so I found no objection with it.  I doubt any imagination could make Jacob more interesting than he already is anyway.
Everyone had finally gone silent.  There's always a small gap after the laughter trails off that can easily become awkward if it isn't quickly filled up.  It was the moment I'd been quietly waiting for.  For the first time since joining this circle of men I spoke up.  I said, "Yeah,… it's all true.  Batman is my brother in law!"
This post was shared at: Simple Homestead Blog Hop –