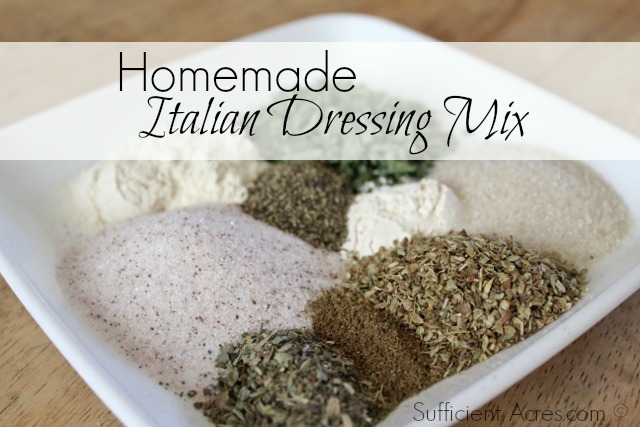 I have LOVED green salads since I was very little.  I actually preferred them to almost anything.  I would pass up McDonald's chicken nuggets and french fries for a chef salad with thousand island dressing every time.  I was recently reminded of my grandma's wilted lettuce!  Have you ever had wilted lettuce?  When I would visit my grandma in the summer, we would go out to the garden and harvest a bunch of lettuce so she could make some for me.  It has bacon pieces with a warm vinegar and oil dressing drizzled over the fresh lettuce….oh so good!  But my favorite salad was when mom would chop up a bunch of ice burg lettuce and I would get to use one of those Italian salad dressing packets to make a zesty dressing to dump on a HUGE bowl of lettuce.  Yumm!
Several years ago I realized homemade salad dressings are amazing!  Here are links to my homemade ranch and thousand island.  I'm not sure why it took me so long but, I made this for the first time a couple months ago and was giddy about how yummy it turned out!  I love having this dry mix the cupboard so I can shake some up in no time at all!!
This recipe will be enough to make two batches of zesty Italian dressing.
You will need: 1 tablespoons of dried parsley, 1 tablespoon onion powder, 1 teaspoon garlic powder, 1 tablespoon sugar, 1 tablespoon plus 2 teaspoons of salt, 1 tablespoon oregano, 1 teaspoon basil, 1 teaspoon ground pepper and 1/4 teaspoon celery seed powder.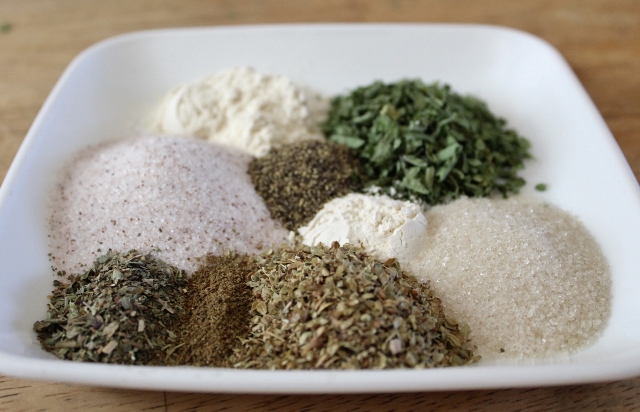 Put all your ingredients in a small jar with a lid and shake!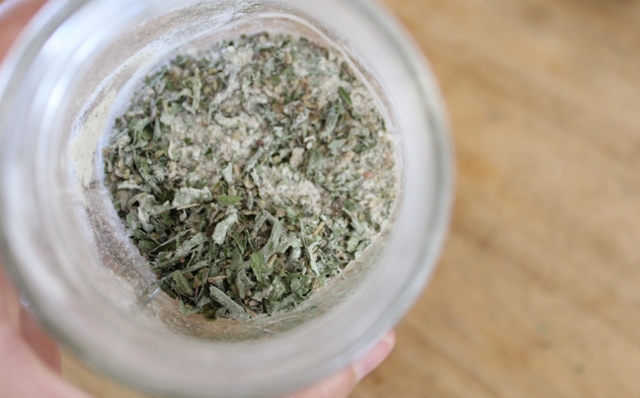 Now to make the dressing: Put 2 tablespoons of your dressing mix in a pint size jar.  A jar that is made for Italian dressing is even better.  Now add 1/2 cup of vinegar, 2/3 cup of oil (I used avocado oil) and 2 tablespoons of water.  Put the lid on and shake, shake, shake…the salad dressing….not your booty, well,… if you want to shake your booty too, you go for it!  Just a warning though, if you have kids in the house between the ages of 10 and 15 you will get lots of eye rolls and "mom, you are so weird" remarks (not that I would know from experience or anything)…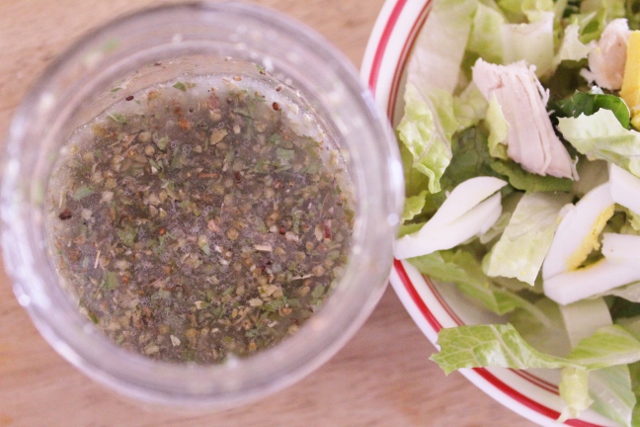 Homemade Italian Dressing Mix
Author:
Sufficient Acres.com
Ingredients
1 tablespoon dried parsley
1 tablespoon onion powder
1 teaspoon garlic powder
1 tablespoon sugar
1 tablespoon plus 2 teaspoons salt
1 tablespoon oregano
1 teaspoon basil
1 teaspoon ground pepper
¼ teaspoon celery seed powder
Instructions
Mix all your ingredients together and your ready to make dressing.
To make the dressing: Put 2 tablespoons of your dressing mix in a jar and add ½ cup vinegar, ⅔ cup oil, and 2 tablespoons of water. Shake well.
This is not only great on green salads and pasta salads but as a chicken marinade too!