Have you ever seen those little decorative signs that say "Wicked Chickens Lay Deviled Eggs?"  Well, my chickens are definitely NOT wicked, because it takes a bit of work for me to turn those farm fresh cackleberries into yummy deviled eggs.  I'm glad my chickens aren't wicked, I love to cook, so it's ALL good!
I make a lot of deviled eggs because my unwicked chickens lay lots of cackleberries!  I try to experiment with my deviled eggs every once in a while but, I always come back to this recipe.  The sweet relish adds a bit of tang, and the horseradish adds a little kick. Yumm!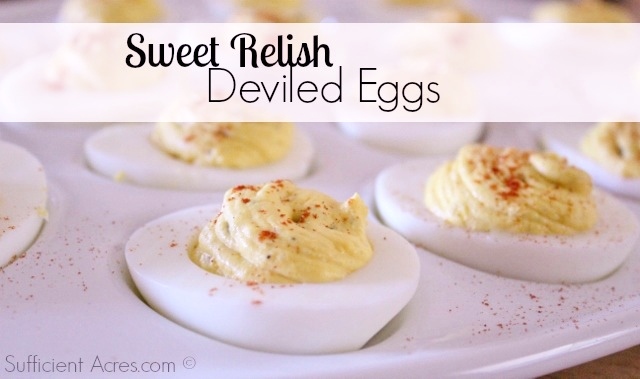 You will need 1 dozen eggs, 1/2 a cup of mayonnaise (here's my easy homemade mayo recipe), 1/4 cup of sweet relish, 1 tablespoon prepared mustard, 2 teaspoons horseradish sauce, salt and pepper to taste, and paprika for sprinkling.
Start off by hard boiling a dozen eggs.  Here is my tip on how to boil and EASILY peel farm fresh eggs.  (It's a life saver if you have very fresh eggs and you don't want them mutilated when you peel them.)  After you have peeled the eggs wash them, cut them in half lengthwise, and place the yolks into a bowl.  Then use a fork to mash the yolks into small pieces.
Add the rest of the ingredients and stir well.  Then taste it….salt?…pepper?…more relish?  It's all up to you!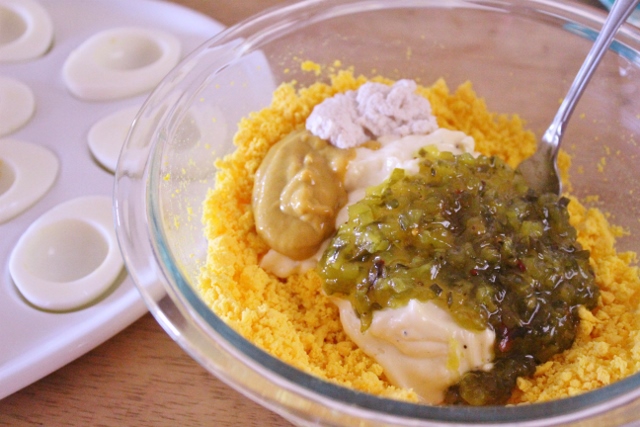 This came out a little lumpy, so I used the immersion blender on it for a few seconds. (Love that thing!)
After it's all mixed up, spoon the filling into a plastic bag, seal the bag or twist the top, cut a small hole in the bottom corner, and squeeze the yolk filling through the hole into the empty egg whites.  For years I would carefully spoon the filling into each egg, the plastic bag method is WAY faster, and much more fun!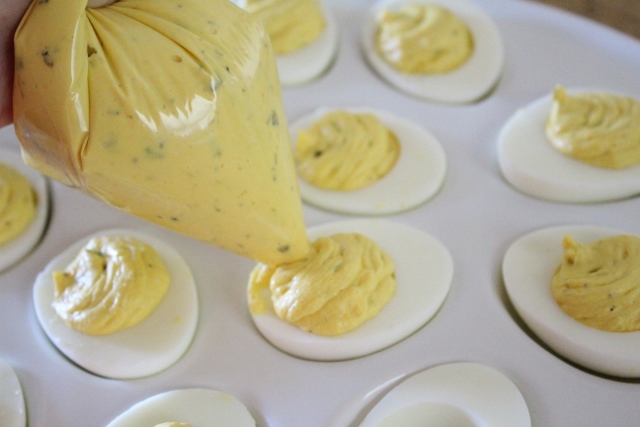 Sprinkle a little paprika on top and you're done!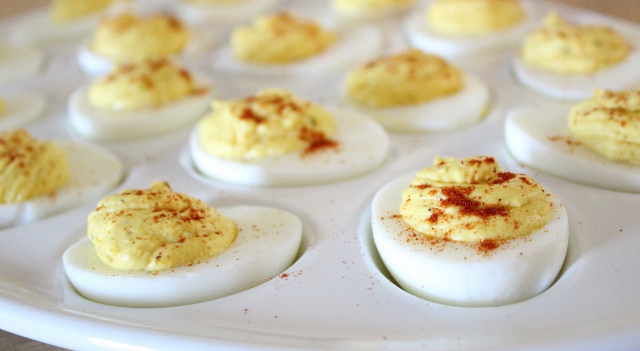 Sweet Relish Deviled Eggs
Author:
Sufficient Acres.com
Ingredients
1 dozen hard boiled eggs peeled
½ cup mayo
¼ cup sweet relish
1 tablespoon mustard
2 teaspoons horseradish sauce
salt and pepper to taste
paprika for sprinkling
Instructions
Cut your peeled hard boiled eggs in half length wise.
Place the egg whites on a tray and the yolks in a mixing bowl.
Smash the eggs yolks with a fork.
Add the first 5 ingredients to the yolks and stir.
If it's to lumpy for your liking you can use an immersion blender to make it a little smoother.
Do a taste test and add salt and pepper if needed.
Spoon the filling into the egg whites or use a plastic bag as described above.
Sprinkle each egg with a little paprika.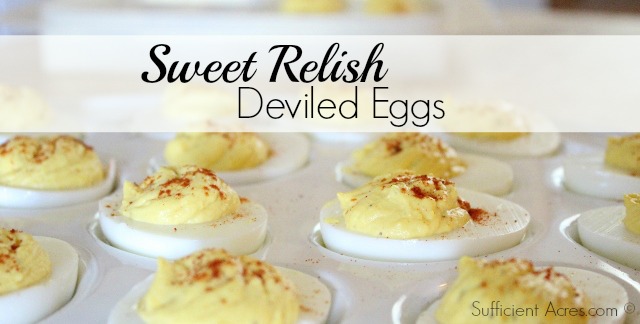 "It may be the cock that crows, but it's the hen that lays the egg." Margaret Thatcher
This post was shared at: The Simple Homestead Blog Hop –