Happy first day of summer!!!
Each day this week I will be posting a picnic/potluck type recipe to kick off the summer and the season of outdoor gatherings!
This first recipe I have been knocking around in my brain for a while.  I love a green salad with chicken, bacon and ranch, so I thought they would go together in a pasta salad very nicely…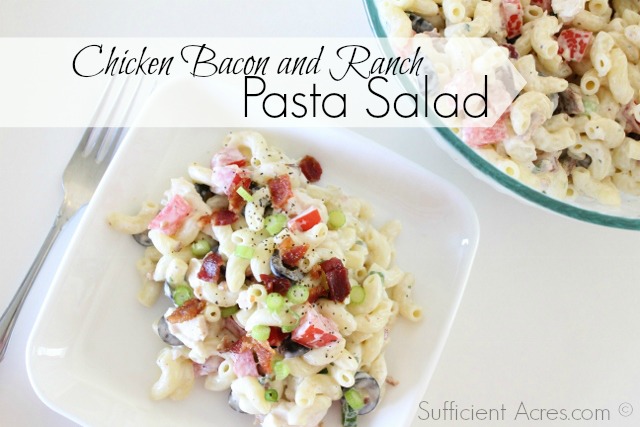 I was right. 🙂
You will need: 8 oz. of uncooked pasta, 1 cup of cooked chicken, 1 green onion, 1/2 cup black olives, 1/2 of  large tomato, 4 slices of bacon, 1 cup of ranch dressing and a little pepper to sprinkle on top.
Start by boiling the pasta according to the directions on the bag and start cooking the bacon.  (Here's how I cook bacon in the oven.)  While the pasta and bacon are cooking, chop the green onion, slice the olives, seed and chop the tomato, and cut or shred the chicken into bite size pieces (I used rotisserie chicken this time).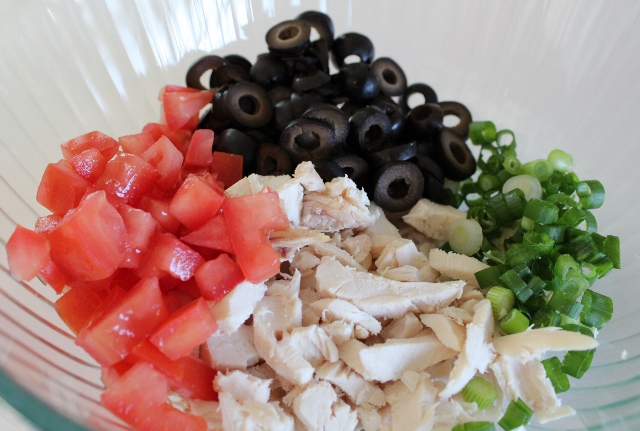 Measure out a cup of ranch dressing.  I make our favorite ranch by adding a cup of mayo and a cup of buttermilk to these homemade ranch packets.
When the pasta is done use a colander to strain the hot water out, then run cold water over the pasta until it's completely cooled.  Crumble your cooked slices of bacon….  Mmm… Bacon…  What was I saying?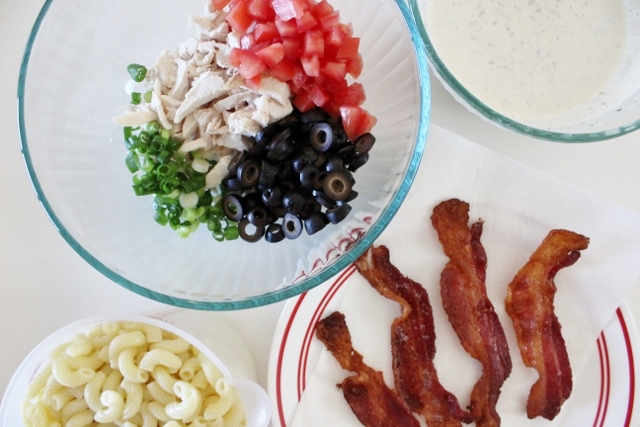 Mix everything together and sprinkle a little pepper in…
This will be 6 or 7 servings so if you are taking it to a potluck I suggest doubling the recipe.

Chicken Bacon and Ranch Pasta Salad
Author:
Sufficient Acres.com
Ingredients
8 ounces uncooked pasta (any kind)
1 cup cooked chicken
4 slices of bacon
1 green onion
½ cup black olives
½ of a large tomato
1 cup ranch dressing
pepper to taste
Instructions
Start cooking the pasta according to the directions on the bag.
Start cooking the bacon either in the oven or on the stove top.
While those are cooking: cut or shred the cooked chicken into bite sized pieces, chop up the onion, slice the olives, chop and seed the tomato and measure out a cup of ranch dressing.
When the pasta is done drain out the hot water and rinse the pasta under running cold water until it is completely cool.
When the bacon is done place it on a paper towel lined plate to cool. Crumble the cooled bacon.
Now stir all the ingredients together in a big bowl and sprinkle with a little pepper.
Note: Like all pasta salads, if this sits in the fridge for a while the pasta will soak up a lot of the ranch and you might want to add a little more ranch or mayo to make it creamy again.
This post was shared at: Simple Homestead Blog Hop – The Weekend Potluck –