This post contains affiliate links.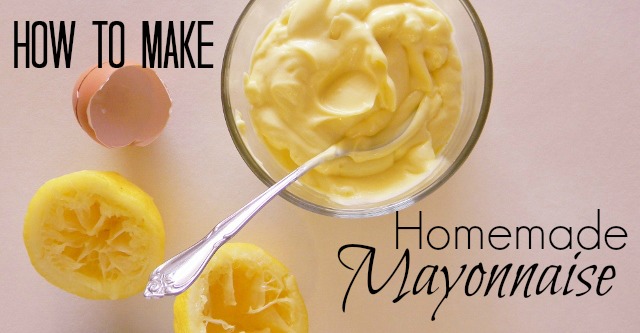 In the last few years my motto has become "make it don't buy it",  and mayonnaise has been on my list to try for a long time.  Before we got married we had a "mayonnaise discussion" Jess requested that we only ever buy Best Foods real mayonnaise,… and lots of it!  There are two things that we never run out of in this house and that's coffee and mayo!    Between Jess and homemade ranch dressing we use A LOT of mayonnaise.  I think I put off making it for so long because we eat so much of it.  I thought it would be a pain to make it all the time and I really didn't think it would pass the Jess taste test.  With this simple method it only takes about 5 minutes from start to finish, and yes, it DID pass the Jess taste test!  It's so cool to watch it come together I thought this would be a great post to start making videos with.  Please keep in mind that this is our first video and we are NOT professionals, but hopefully with some practice, and (maybe) a new camera in the near future (I'm saving my pennies) our short videos will get better.
Just a few tips:  (1) Mayonnaise has raw eggs in it, so make sure you are using FRESH, clean eggs and you know they are from healthy, well cared for chickens!  (2) I highly recommend using avocado oil for your mayo, it's a healthy oil and tasteless.  (3) I use a pint sized, wide mouth mason jar for single batches of mayo and a quart size wide mouth jar for double batches.  (4)  An immersion blender works wonderful for making mayo, but a food processor or blender will work too.  You will just have to pour the oil in slowly while it's blending.  (5)  Some additional ingredients you might want to try in your mayo are: plain mustard, Dijon mustard, ground pepper, garlic or garlic powder.  It's really easy to experiment with, so why not have fun with it, right?

Homemade Mayonnaise
Ingredients
1 fresh egg at room temperature
1 tablespoon lemon juice
½ teaspoon white vinegar
½ teaspoon salt
½ teaspoon sugar
1 cup avocado oil
Instructions
Place all the ingredients into a wide mouth, pint size mason jar.
Use an immersion blender and place the blade over the egg at the bottom of the jar.
Pulse a few times to whip up the egg then slowly incorporate all of the oil.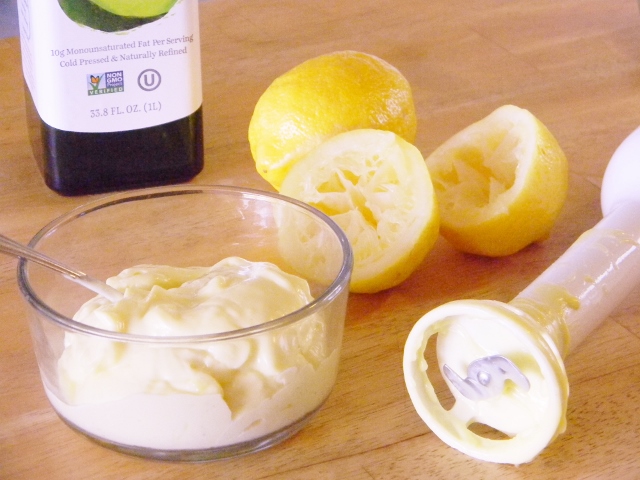 This post was shared at: The Art of Homemaking Mondays – Simple Homestead Blog Hop –