I had another post all ready to go today, but then I made these Almond Roca Cookie Bars yesterday and I really wanted to share the recipe with you before Easter weekend; just in case you want to make them for your Easter celebration.  🙂  They are so delicious and simple to make.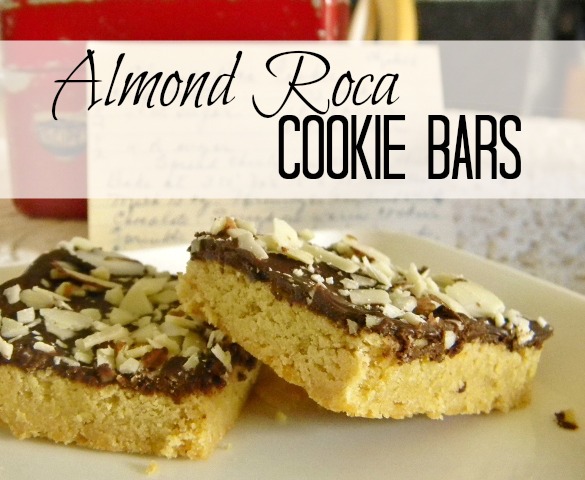 I was lucky enough to inherit my grandmas recipe collection and found this recipe as I was thumbing through the thousands of recipe cards and newspaper clippings.  "Almond Roca" caught my eye. I had never heard of Almond Roca Cookies before so I gave it a try.  They definitely did not disappoint!  I think my grandma would be happy to know I'm putting her collection to good use.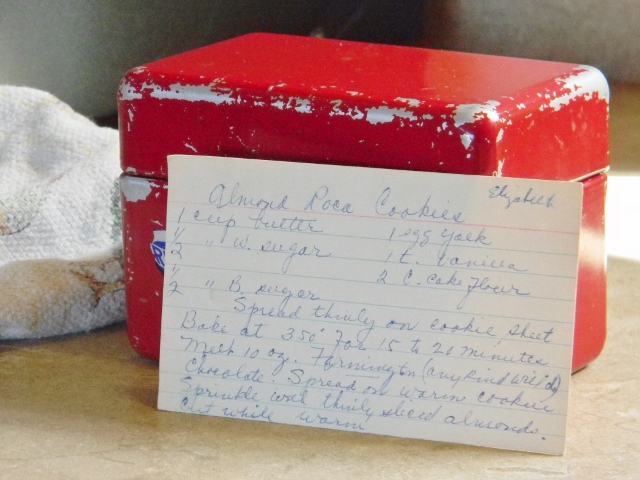 Make the cookie dough by mixing the butter, sugars, egg yolk, vanilla and flour.  The recipe card said cake flour but I didn't have any so I used all purpose four.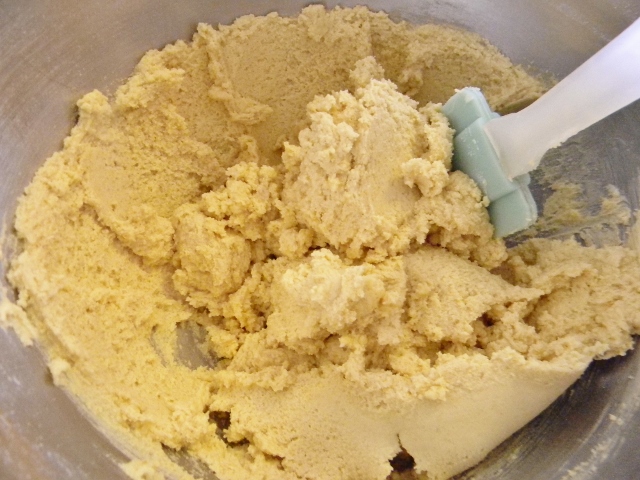 When it's mixed well, put the cookie dough in a greased 9×13 inch baking pan and spread evenly.  As you can see I used my fingers. 🙂
Pop it in the oven that's preheated to 350° for 15 to 20 minutes.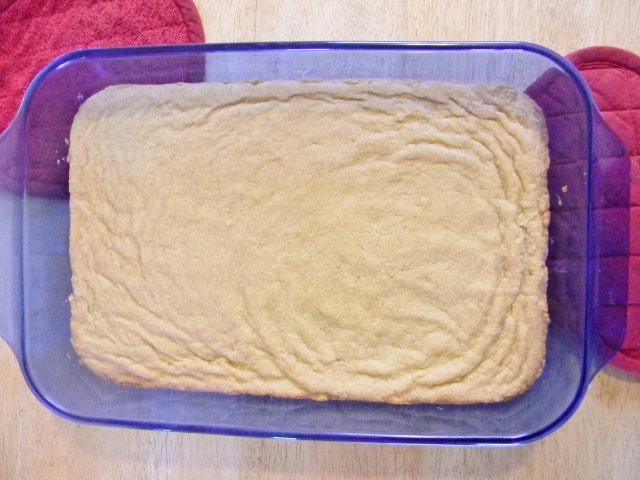 Melt the chocolate (I only had 7 oz. so that's what I used) in the microwave or over a double boiler and spread over the warm cookie bars, then sprinkle with the sliced almonds.  (I smashed them up a bit)  Cut into 24 squares while they are still warm.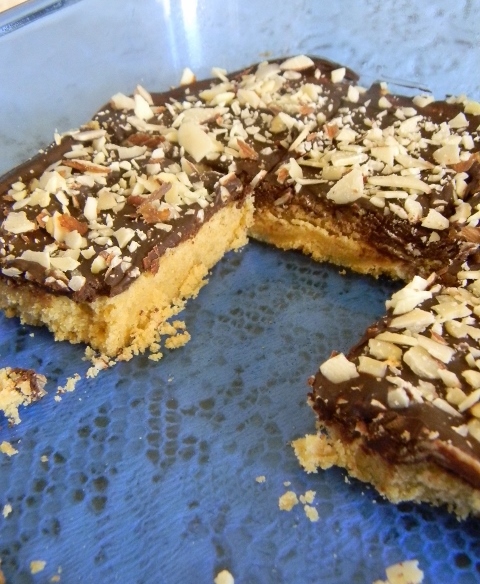 They are disappearing quickly!

Almond Roca Cookie Bars
Ingredients
1 cup softened butter
½ cup white sugar
½ cup brown sugar
1 egg yolk
1 teaspoon vanilla
2 cups of flour
10 ounces of chocolate
½ cup of sliced almonds
Instructions
Make the cookie dough by mixing together the softened butter, both sugars, egg yolk, vanilla, and flour. Now press the cookie dough into the bottom of a greased 9x13" baking pan. Bake for 15 to 20 minutes at 350°. Melt the chocolate in the microwave or in a double boiler (according to directions on the package), spread it on the warm cookie layer and sprinkle the sliced almonds on top. Cut into 24 squares while they are still warm. Store in the refrigerator.
This post was shared at: Our Simple Homestead Blog Hop – Weekend Potluck –