Spring is here!  The days are getting longer and the weather teases us outdoors with warm, calm days.  It happens every year.  "I'm going to get a head start on the garden this year!" I tell myself.  There is plenty of cleanup to be done, and the overgrown raspberries should be thinned, weeded, and mulched.  The irrigation lines need to be rolled up, and the fence will have to be extended up so my new laying hens won't fly over…  Yup!  Much to do!  But like every year our ambitions are quickly thwarted by the spring winds and rain that chase us back indoors.  Oh well…  May is just around the corner,… right?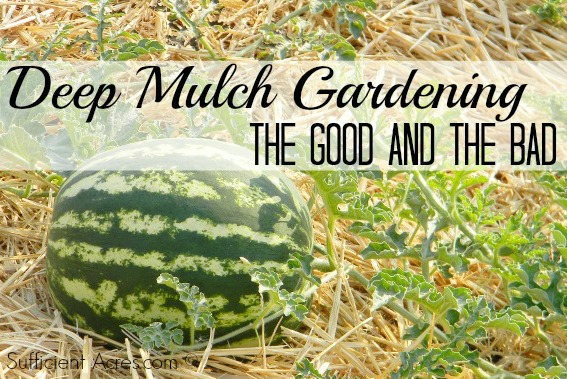 Last year we used the deep mulch method in our garden for the first time.  Using this method just once does not make us experts, but we were able to compare the results against the bare dirt gardens and raised beds we've had in the past.  We're going to tell you how we set up our deep mulch garden, and what we thought was good and not so good about the mulch; then tell you what method we've decided to go with for this years garden.
Here's how we used mulch in our garden:
There are many different materials you can use for mulching in the garden: hay, straw, wood chips and leaves are some examples.  We used straw simply because it's what we had and it was free (you can't beat free).  We started by tilling given that we hadn't grown a garden the year before and we didn't want to put a foot of straw on rock hard dirt.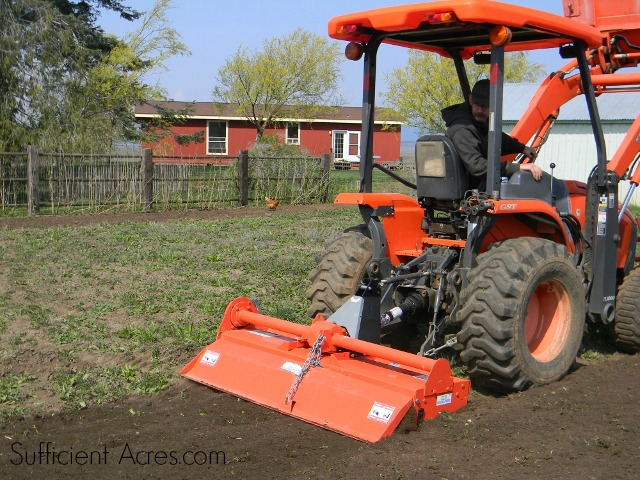 Then Jess hauled in some straw from the barn, and the girls and I broke open the bails and spread them out.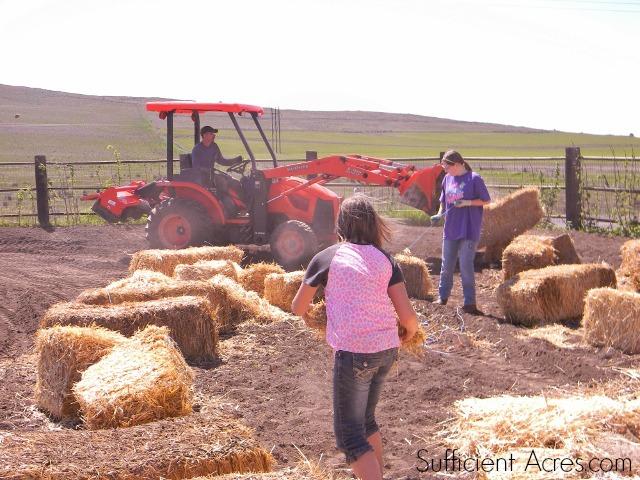 I wish we had counted the bails, it was a lot!  You want the mulch to be about a foot thick.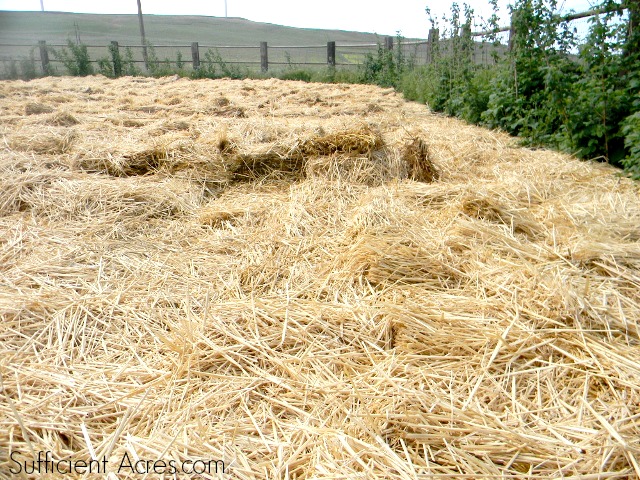 When it was time to plant we moved the straw out of the way, installed a drip water system, and planted the seeds.  It might have been easier to have placed the irrigation before spreading the mulch, but I'm not sure.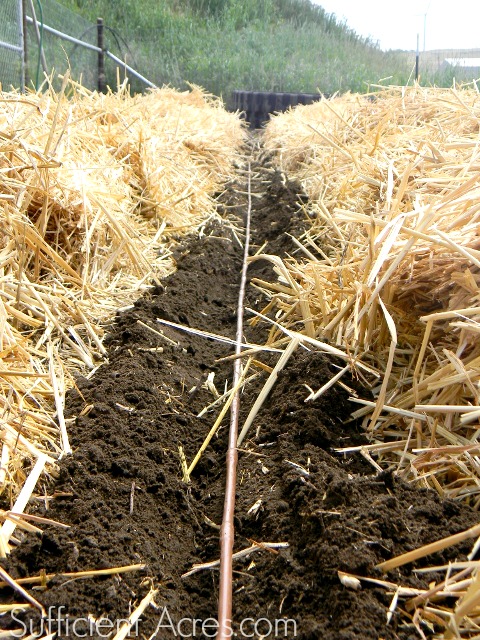 We left the rows open until the plants got big enough to nestle the straw around without burying the plant.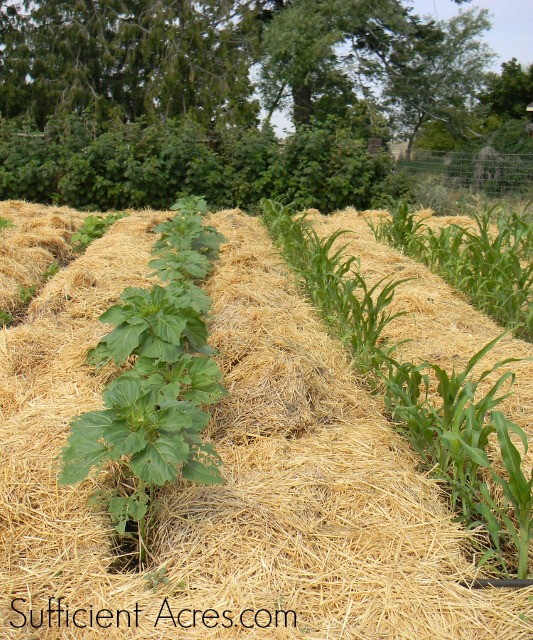 The good and even great parts of the deep mulch method:  
The great part about deep mulch and the whole reason we gave it a try was LESS WEEDS!  There were truly less weeds to pull last summer than any other summer.  The weeds just couldn't push up through all that straw.
The mulch holds the moisture in the dirt.  We live in a dry climate so not having to water as much is a good thing.
Because the soil was staying moist I immediately noticed an increase in earthworms.
The mulch nourishes and protects the soil.
When you deep mulch year after year you don't have to till the garden, just add more mulch in the fall, make rows in the spring and plant.
Last summer produced the best harvest we've seen yet!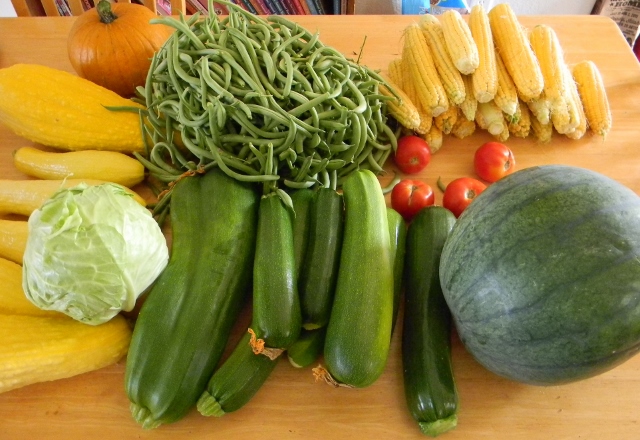 I'm not going to say it was all the mulch.  We had an unusually long and warm growing season, plus I had more time to spend in the garden.  I do think the deep straw mulch did help a lot though!
What we did not like about the deep mulch method.
Bugs – I have never had so much trouble with bugs!  Mostly earwigs that would hide in the straw during the day and come out and eat our plants all night.  Then later in the season we had an aphid infestation that we've never had to deal with before.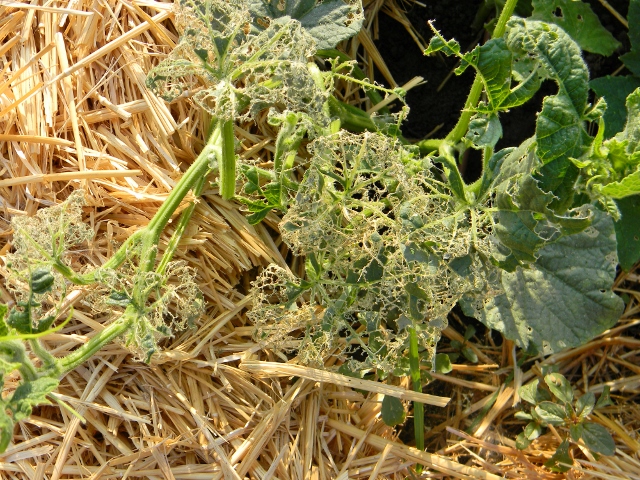 The straw was also a good hiding place for mice and snakes! (not many, but any is too many for me) I have a feeling that if we didn't have several barn cats that frequent the garden we would have had a real problem.
We had a hard time telling when we had a leak in the irrigation.  A couple times we wasted quite a bit of water because we didn't realize there was a leak right away.
The straw was awkward and slippery to walk on, my mother in-law even fell when she came out to look at my garden(I almost biffed it a few times too).  The good part was the straw made for a soft landing.  I'm thinking wood chips or hay wouldn't be as slippery.
Pulling the weeds that did come up in the rows was awkward and the straw made it an itchy job.  It was almost impossible to push the wheelbarrow around on it as well.
What we're going to do in this years garden.
This year we have decided to keep the mulch over about half of the garden and add several more raised beds.  We like the ease of weeding raised beds and want to try mulch in them.  We won't be going back to bare dirt gardening, we think the "good" (like: less weeds, richer soil and using less water) out weigh the "bad".  If it's another bad year for bugs we'll try to stay on top of them with our homemade bug spray.  For now we will keep using the straw for mulch because we still have some left, but in the future we would like to try something else.
What about you?  Have you tried mulch in your garden?  What are your thoughts on deep mulch gardening?
"No occupation is so delightful to me as the culture of the earth, and no culture comparable to that of the garden." ~Thomas Jefferson
This post was shared at: Homestead Blog Hop – Simple Homestead Blog Hop  – Mostly Homemade Mondays – From The Farm Blog Hop –