This post contains affiliate links.
Do you like those handy ranch packets from the store, but don't like all the weird ingredients? (or the price?  It's been years, but I remember they weren't cheap!)  Or maybe you have a recipe that calls for a ranch seasoning packet, but you don't really want to run to the store to grab one.  This simple recipe is delicious and frugal with the added bonus that you probably already have all 5 ingredients in your cupboard.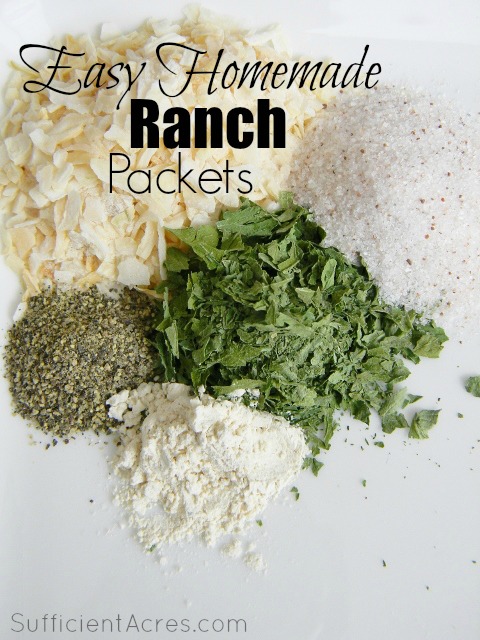 When I first tried this recipe 3 years ago I was a little addicted to the store bought kind.  I was just sure I wouldn't be able to duplicate it at home.  I was VERY wrong (which doesn't happen often 😉 ) the homemade is way better! It's by far the most used recipe in our kitchen.  I make it about 3 times a week.  When I'm organized (this doesn't happen often either) I make up several packets so I have them on hand.  I don't only use these to make ranch dressing or dip either.  I have used them in every recipe I've come across that calls for a ranch packet and have yet to be disappointed!
All you need is:
1 heaping tablespoon of dried minced onion
2 teaspoons of dried parsley flakes
1 1/2 teaspoons of salt
1/4 teaspoon of ground pepper
1/4 teaspoon of garlic powder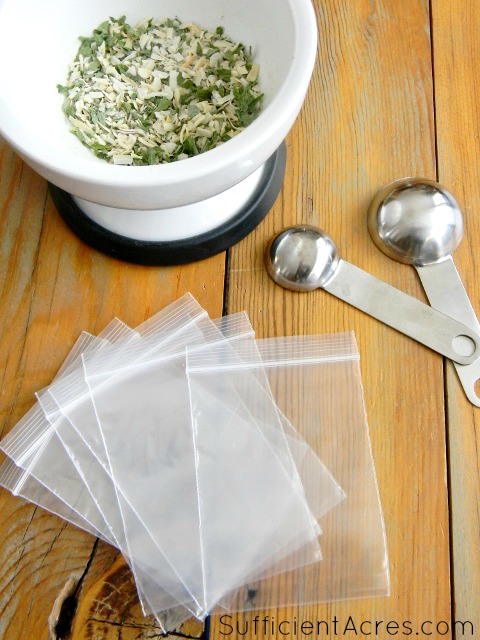 I found these little bags (here) that are ideal for making several packets at a time, and with a small funnel it's easy to pour the ingredients in.  If you're not into disposable plastic baggies, these small Rubbermaid containers work great too.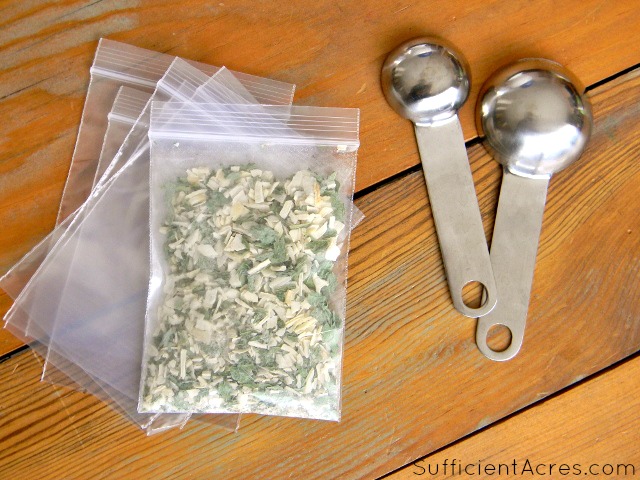 To make Ranch Dressing just whisk one of these packets with 1 cup of buttermilk and 1 cup of mayo (here is my homemade mayo recipe).  It really is best if you refrigerate for a couple hours before eating it though, so try and plan ahead a little.  It helps the flavors blend and it gives it a chance to thicken up a bit.
To make Ranch Dip just stir one of these packets into 2 cups (16 oz. container) of sour cream and refrigerate for a couple hours.  You won't believe how something so simple will taste so good!
These also make an amazing seasoning for homemade chicken gravy, ranch french bread, taco soup…!  Oh the list is long, and I'm always looking for more possibilities.
So what's your favorite way to use ranch packets?  I'd love to know!
Here's a printable version of the recipe:

Easy Homemade Ranch Seasoning Packets
Author:
Sufficient Acres.com
Ingredients
1 heaping tablespoon dried minced onion
2 teaspoons dried parsley
1½ teaspoons salt
¼ teaspoon ground pepper
¼ teaspoon garlic powder
Instructions
Mix all the ingredients together and you have an easy homemade ranch packet.