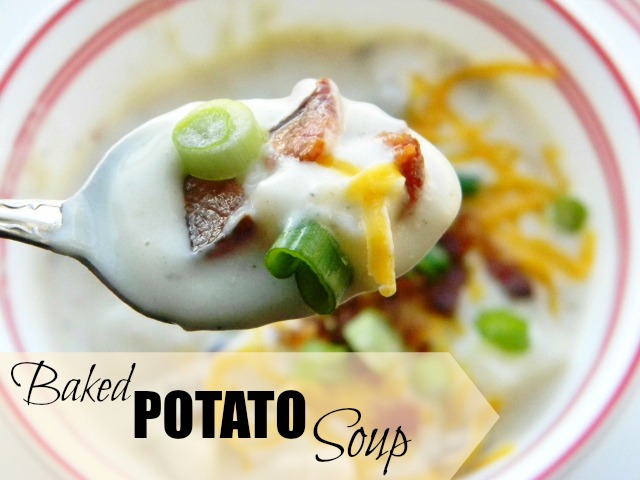 A potato farmer friend of my husbands gave us some potatoes.  By some, I mean about 300 pounds…(gotta love those organic potato farmer friends!)  We gave about half of them away and have been enjoying the rest.  Baked potato soup is one of our families all time favorite dinners, so that's how I've been utilizing most of the baker potatoes.   What's not to love about rich, creamy soup with bacon and cheese. 🙂 It's a really easy dinner too, especially if you bake the taters the day before and store them in the fridge until you're ready to peel and cube them.
This will make a BIG pot of soup, it feeds the four of us twice. (I'm a huge fan of leftovers)  So if you don't want that much you can easily cut the recipe in half.
You will need 5 baked baker potatoes that have been completely cooled.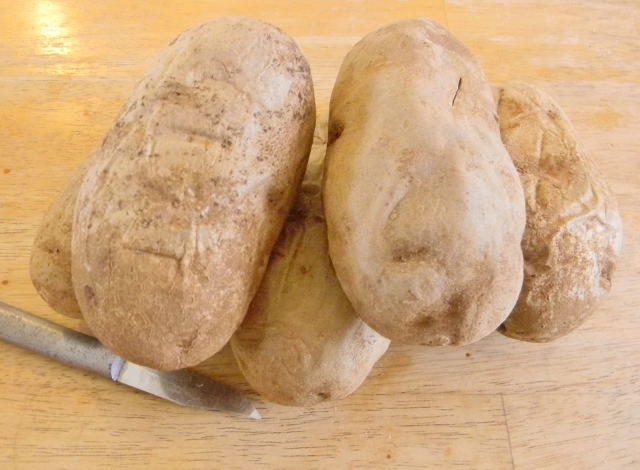 Start by chopping up a pound of bacon and frying it up!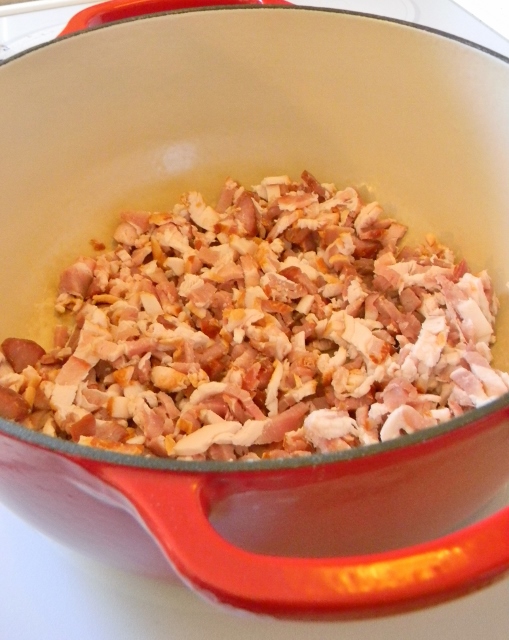 Because I'm cheap frugal, I buy the packages of ends and pieces for this recipe because they are less expensive than the sliced bacon.
While your bacon is frying, peel and cube your cooled potatoes into bite sized pieces.  Don't forget to stir your bacon every once in a while, unless you like burnt pieces of bacon and fire alarms and beautiful enameled cast iron pots that aren't so white anymore…..then go ahead and ignore your bacon.
When the bacon is done, place it on a paper towel lined plate to drain and set it aside with the potatoes while you start the soup. (notice there are no burnt, smoking pieces of bacon in this picture, that's because I remembered to stir……this time)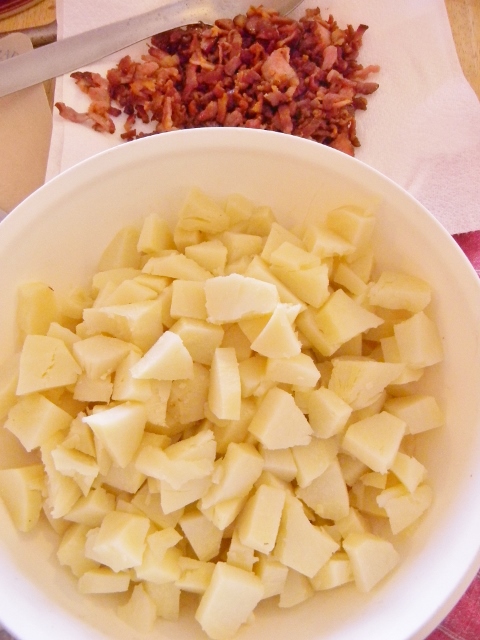 In a big pot (one that doesn't have black pieces of bacon stuck to the bottom)  melt 3/4 of a cup of butter then whisk in 3/4 cup of flour, when it's nice and smooth slowly whisk in a cup of milk.  Add 1 teaspoon of salt and 1/2 teaspoon of ground pepper and mix will.  Now whisk in 4 more cups of milk and 2 cups of chicken broth or stock.  Heat until it comes to a low boil and thickens, stirring almost constantly.  Remove from the heat and stir in 1 cup of sour cream, and add the potatoes and bacon.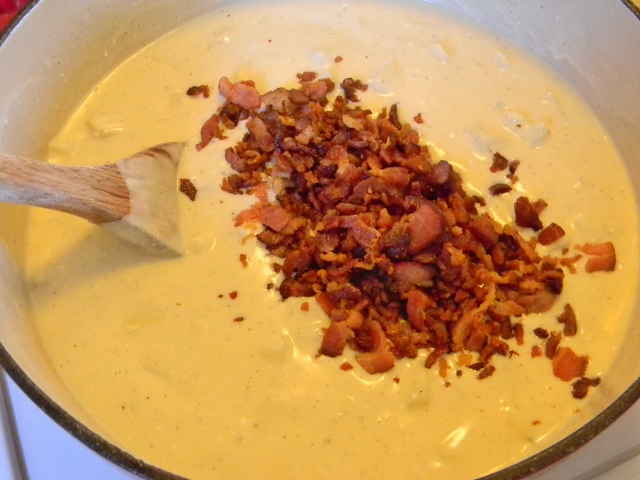 You can hold out some of the bacon for a garnish if you wish.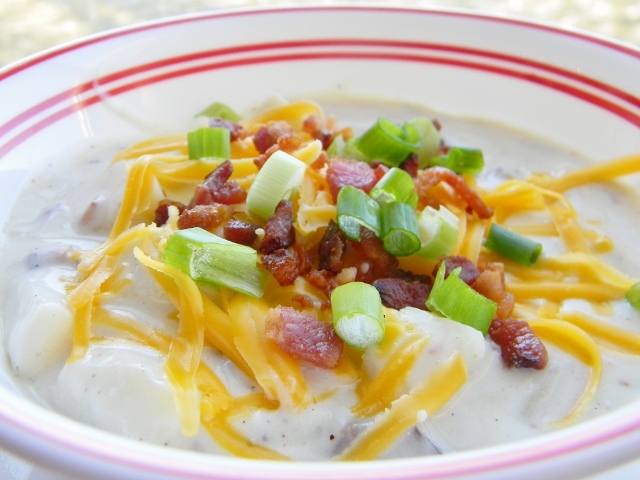 Now you can dish it up and add shredded cheddar cheese, extra bacon and sliced green onions.  Oh, thank you organic potato farmer friend!
Here is a printable version of the recipe:

Baked Potato Soup
Author:
Grace @ Sufficient Acres.com
Ingredients
5 baker potatoes
1 pound of bacon
¾ cup butter
¾ cup all purpose flour
5 cups of milk
2 cups chicken stock or broth
1 teaspoon salt
½ teaspoon ground pepper
1 cup sour cream
shredded cheddar cheese and chopped green onion for a garnish
Instructions
Wash and stab(so they don't explode in your oven) the potatoes and bake them for 1 hour and 15 minutes or until done at 350°- Let cool Completely
Cut bacon into small pieces and cook over medium heat until done.
While the bacon is cooking peel and cube the potatoes into bite size pieces.
Place the cooked bacon on a paper towel lined plate to drain. Set the bacon and potatoes aside while you start the soup.
In a big pot melt the butter and whisk in the flour then slowly whisk in one cup of milk.
When it's nice and smooth stir in the salt and pepper then whisk in the rest of the milk and the chicken stock.
Bring it to a boil while stirring constantly. When it starts to boil and thickens remove from the heat and stir in the sour cream.
Add the potatoes and bacon (leaving some out for a garnish if you wish) and stir well.
Ladle into bowls and garnish with the remaining bacon, green onions and cheese.